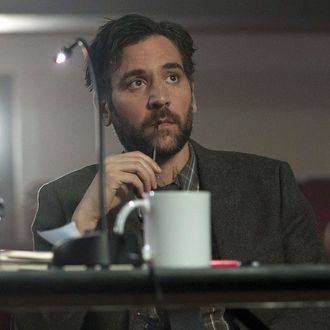 Just a family man who loves drama.
Photo: NBC/Peter Kramer/NBC
NBC's upcoming drama Rise, about a high-school production of Spring Awakening, looks a lot like a serious version of Glee, or perhaps a musical version of Friday Night Lights, given that it's made by FNL's producer Jason Katims. The show is inspired by the true story of high-school teacher Lou Volpe, whose story was told in the book Drama High. But the series includes one crucial change: While Volpe was closeted and eventually came out later in life, Josh Radnor's fictionalized version of Volpe, Lou Mazzuchelli, is a straight family man. Katims, who spoke about the decision at the Television Critics Association press tour, decided to change the character so that the series would better reflect his own experience. "We took [the book] as an inspiration, and then I really felt like I needed to make it my own story," Katims said. "With Lou's family life and Lou's family itself, there's a lot of reimagination. Not just in terms of gay or straight, but in terms of the family structure."
Rise won't "shy away from issues of sexuality," Katims noted, and the show does include a trans character and a young closeted character in the main cast. "I was inspired to tell the story of Michael [Ellie Desautels], this transgender character, and Simon [Ted Sutherland] who's dealing with his sexuality and growing up in a very conservative religious family," Katims said. "Those stories felt like they resonated with me as a storyteller, I wanted to lean into that." Still, the change in the teacher's sexuality makes his obsession with putting on Spring Awakening, a show about the sexual awakening of a group of students that includes a romance between two male characters, seem a lot less explicable. In other news, Rise's teacher character also has a son with a drinking problem, a plot that will also feature in the season, just in case there wasn't enough drama in the school drama program on the drama TV program.
Update: This post previously referred to Drama High as a memoir. It is a non-fiction book written about Volpe and his students.