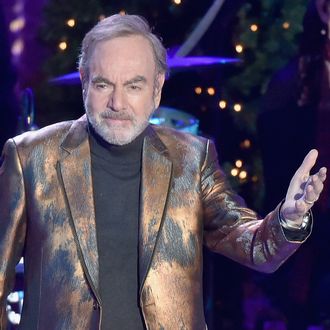 Neil Diamond.
Photo: Theo Wargo/Getty Images
In an announcement made Monday, Neil Diamond revealed that he will have to cut short his 50th Anniversary Tour due to his recent diagnosis with Parkinson's disease. While his physicians recommend he cancel the third leg of his tour, which would have taken him to Australia and New Zealand, Diamond reassures fans and well-wishers that he fully intends to continue doing all the other activities that make up being a singer-songwriter. He also name checks his own hit song "Sweet Caroline" in the announcement, because Neil Diamond knows everybody in the world loves the hits. You can read his full statement, as reported by Variety, below:
 It is with great reluctance and disappointment that I announce my retirement from concert touring.I have been so honored to bring my shows to the public for the past 50 years. My sincerest apologies to everyone who purchased tickets and were planning to come to the upcoming shows.




I plan to remain active in writing, recording and other projects for a long time to come. 




My thanks goes out to my loyal and devoted audiences around the world. You will always have my appreciation for your support and encouragement. This ride has been 'so good, so good, so good' thanks to you.