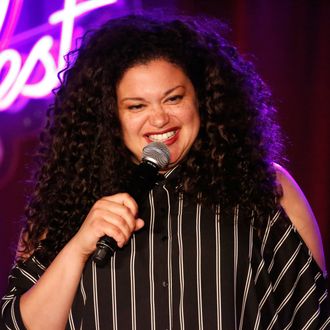 Michelle Buteau.
Photo: FilmMagic/FilmMagic
A few months ago, New York and L.A.'s comedy communities were abuzz. It seemed like every stand-up was putting themselves on tape. Sure, every once in a while you might see a couple of folks taping for late-night submissions, and there is always that week when a handful of comics are running a half hour to submit to Comedy Central's Presents. This was different. The word was that Netflix was asking for submissions. Vulture can report now that it was for a series of 15-minute stand-up specials for the streaming service.
Netflix's yet-to-be-titled stand-up series will tape next month at Atlanta's historic Terminal West; the 15-minute specials will be released in bundles throughout the year. The initial lineup is as follows: Aisling Bea, Michelle Buteau, Tim Dillon, JR De Guzman, Sabrina Jalees, Janelle James, Sam Jay, Josh Johnson, Ian Karmel, Jak Knight, Matteo Lane, Max Silvestri, Taylor Tomlinson, Phil Wang, Emma Willmann, and Kate Willett. Though all up-and-comers, most are well-established comics, many of whom are touring nationally as headliners, doing sets closer to an hour. Heck, four of them — Michelle Buteau, Sam Jay, Tim Dillon, and Josh Johnson — have already taped Comedy Central half hours.
The move represents Netflix's continued investment in stand-up comedy. Last year, the streaming network released a half-hour series called The Standups and committed to releasing a new stand-up special every week. With these quarter-hour specials, Netflix will be offering a greater diversity of lengths, comedy styles, and comedians to meet the differing demands of their subscribers. Netflix already has relationships with some of the biggest stand-ups ever — Jerry Seinfeld, Dave Chappelle, Ellen DeGeneres — but this will effectively create a pipeline for new talent, not unlike what Comedy Central has done for years. Your 15-minute tracks well, well then how about a half hour? Your half hour tracks well, how about an hour or a TV show?
A quarter hour might seem like a weird amount of time, but that's just because there's no precedent for it on TV. Stand-up sets that air on television tend to fall into one of four categories: 5-minute late-night sets, 7-to-10-minute sets on stand-up showcases, 30-minute stand-up specials, or the hour-long stand-up specials. But 15 minutes is a pretty standard set length at clubs like L.A.'s Comedy Store and New York's Comedy Cellar, so this will be an opportunity for a wide audience to actually see stand-ups perform in the way they're most used to.
As a preview, you can watch or listen to all the featured comedians below:
Aisling Bea
Michelle Buteau
Tim Dillon
JR De Guzman
Sabrina Jalees
Janelle James
Sam Jay
Josh Johnson
Ian Karmel
Jak Knight
Matteo Lane
Max Silvestri
Taylor Tomlinson
Phil Wang
Emma Willmann
Kate Willett