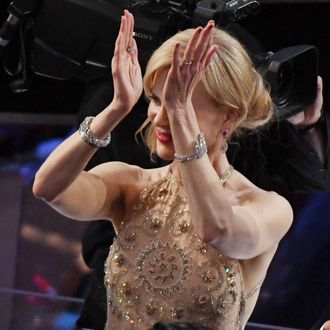 Photo: MARK RALSTON/AFP/Getty Images
If you pride yourself in following the memes of A-list celebrities, you'll recall at last year's Oscars, Nicole Kidman did a very silly clap that made people question if she was trying to communicate with a colony of seals. She later explained that her odd technique was due to the oodles of diamond jewelry covering her wrists — you can't return them to Harry Winston with clap marks all over them! — and declared all of the brouhaha to be a moot point. Despite the seemingly cut-and-dry answer to end the silliness, Andy Cohen decided to ask Kidman about it again during her surprise appearance on CNN's New Years Eve Live, and she didn't indulge the Bravo czar with any jokes about it. In fact, she threw some Australian shade his way.
"I wish that there was more important things to be concerned about or that people were focused on more important things than that sort of clapping," Kidman responded. "That's what I would say." Her husband, Keith Urban, also didn't mask his mild agitation: "I mean, it's called a logical clap when you don't want to slam your hands together with rings. But what do you want to do?" For what it's worth, Cohen was a good sport about it, and even immediately commented when the interview ended that Kidman "shaded me a little bit."
They'll just have to bury the hatchet on Watch What Happens Live.