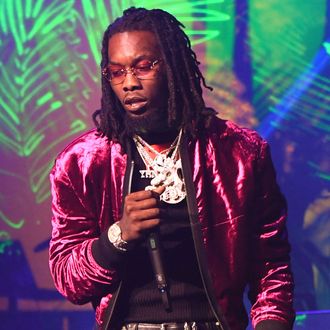 Offset.
Photo: Paras Griffin/Getty Images for BET
Migos' Offset has responded to the backlash over a homophobic lyric both in a series of since-deleted Instagram stories and a follow-up statement. On a new song from YFN Lucci called "Boss Life," Offset raps "I cannot vibe with queers." Artists like MNEK have called out the irony, noting Offset's presence in the fashion world and Migos' breakthrough hit "Versace." "Offset saying he doesn't vibe with queers while constantly wearing and PARADING clothes by gay designers is the REAL gag," he tweeted. "He's clowning himself???? was gianni versace not gay ? this one you're screaming versace versace versace, are you not vibing ? lololol." MNEK added, "All i'm saying is if you're a homophobe say it with your chest." Others pointed out that Offset's fiancée Cardi B has identified as bisexual and that her sister is gay.
Offest attempted to walk back the lyric in his Instagram stories, saying "The difinition [sic] ain't even that" and that he wasn't referring to sexuality. In a follow-up post including a screenshot of the outdated Google definition of "queer," he further clarified why he used the word and apologized for causing offense:
"When I wrote that I was thinking of words that could rhyme with the others (here, lear, solitaire, bear) and I saw this definition about her having a queer feeling she was being watched and it fit what I was thinking about a stalker creepy paparazzi situation. To me that 'queer' I don't mean someone who's gay. I mean lame people who film you, post it and stalk you. Lingo that means strange or odd."
Last year, Migos came under fire for an interview in which Quavo was quoted as implying that Makonnen coming out "undermined his credibility." The group later released a statement saying they were misquoted and "love all people, gay or straight." After a report then circulated accusing the group of refusing to perform with Katy Perry on SNL if her set included drag queens, both Migos and Perry issued statements claiming that the rumor was false.