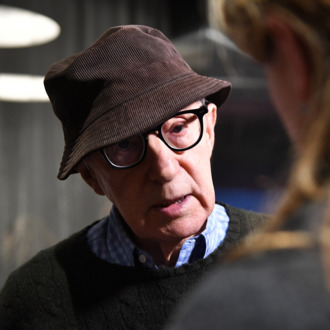 Since 1980, Woody Allen drafts, notes, and various musings have been collected at Princeton University's Firestone Library. Finally, someone has read them. In an essay for the Washington Post, freelance writer Richard Morgan has shared his observations from combing through the "56-box, 57-year personal archives" in Princeton's collection. According to the library's staff, Morgan says, he is the first person to read the full collection cover to cover. The short version? He says it all "drips with repetitious misogyny."
Morgan did stumble upon an abandoned Allen project from the late '60s or early '70s that fits the director's style: An older man falls for a younger girl, and wrecks his relationship with another woman to pursue the infatuation. Co-written by Allen and Marshall Brickman, "The Filmmaker" follows a jaded documentarian whose side hustle is producing pornos described as being "like Fellini." Morgan explains the rest:
This fictional filmmaker's name? Woody Allen. Fake Woody is engaged to Susan, who works at the Museum of Modern Art as a seller of art books. Her job and her interest in music ostensibly make her intellectual — or at least cultured — which seals her fate in his eyes. It's a cold relationship. One day, while filming at a mental institute, Fake Woody meets Jennifer, "a girl." She is schizophrenic.




Jennifer: "There's something about you that I seem to respond to. I suspect that you're a potential strong person . . . very deep . . . and that you suffer a great deal."

Woody: "I — you know . . ."

Jennifer: "Someday you will be a great artist. It's in your eyes."

Woody: "You have the best face I ever saw in my life. That's true."




He leaves Susan at the altar.
Allen's next movie — reportedly about a middle-aged man who "makes a fool of himself over every ambitious starlet and model" — is expected to arrive sometime this year.