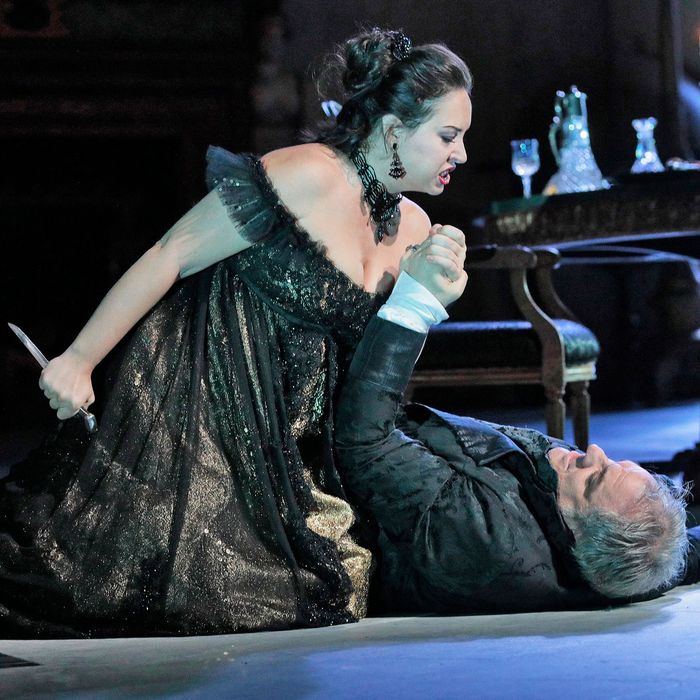 From the Met's new
Tosca.
Photo: Ken Howard/The Metropolitan Opera
Welcome to Operaland, where a brand-new production evokes nostalgia for a 33-year-old forerunner, where singers compete with the memory of long-dead predecessors, and the spirit of a disgraced genius haunts the hall. Zeffirelli, Callas, Pavarotti, Levine — these old names cling to the Metropolitan Opera's new Tosca, directed by David McVicar, unfairly burdening the people who actually brought it to the stage, and signaling to young audiences that they're getting a pretty good simulacrum but that opera's glory days are gone. I don't know that I've ever seen the Met so nervously obsessed with its own past.
In an introductory note whose defensive tone has become a company trademark, general manager Peter Gelb alerts the audience that the current production "will be a relief to those of you who were miffed that we replaced Franco Zeffirelli's extravaganza with the 2009 reimagining by the late Luc Bondy." Gelb reports that Bondy misheard the audience's boos as whoos, and he didn't have the heart to correct him. That experience, he confesses, taught him a lesson: that Met audiences like their classic operas wrapped in "beautiful scenery." This is not the place to reprosecute the mind-numbing repulsiveness of Bondy's turkey, but if the wisdom Gelb gleaned from it is that Met audiences need pretty pictures to swallow Puccini, then he must have forgotten its psychological vacuity, or the (quickly scrapped) scene of Scarpia trying to rape a statute of the Virgin Mary. In any case, there could hardly be a worse motivation for staging an opera than to imitate one production in order to do penance for another.
As instructed, McVicar and his set designer John Macfarlane slather on the retro grandeur. The Roman locations — the church of Sant'Andrea della Valle, the interior of the Palazzo Farnese, and the battlements of Castel Sant'Angelo — parade by, all curiously askew on a raked stage that threatens to dump the sets into the orchestra pit. The production's greatest virtue is that it gets out of the way of the music, allowing conductor Emmanuel Villaume to deliver a briskly professional, if hardly exhilarating, performance.
Vittorio Grigolo has a warm, satiny tenor, nonchalant high notes, a pianissimo that drifts into a quasi croon, and the technique to knit them all together. He also has what so many pretty-voiced singers lack: fierce urgency. His Cavaradossi is fired by a sense of his own nobility, by the scalding purity of his love, and by the fine virtues he projects onto his flawed but beloved Tosca. He wears his bloodied shirt as a badge of pride, and translates that visible suffering into a voice that pulses with energy.
Unfortunately, Grigolo also has terrible taste and a jittery sense of phrasing that treats the orchestra as a small dog scurrying to keep pace. In the third act, when his tormentors allow him a few moments of melody between the torture chamber and the firing squad, he sobs and heaves and staggers as if he didn't trust the audience to grasp the aria's pathos. I kept wanting to grab him by the shoulders and say, Vittorio, it's "E lucevan le stelle." We know it's tragic, already. Grigolo doesn't sing Cavaradossi so much as he plays a tenor who is singing the role of Cavaradossi. He seems only sporadically aware of Tosca, sung by soprano Sonya Yoncheva, in his arms.
Puccini wrote the title character as a diva, always performing even when she's offstage. She manipulates Cavaradossi like a prop, and even after stabbing her would-be rapist Scarpia, she takes the time to arrange the scene with candles and a cross, and to declaim a couple of memorably vengeful lines. Yoncheva has a lovely voice, admirable stamina, and all the refined manners that Grigolo lacks, but she has not internalized her character's desperate narcissism. The best Toscas balance vocal elegance with wild unpredictability, the sense that she reacts with the savagery of a cornered beast. Victimized and proud, she could be an icon of this #MeToo moment, but Yoncheva falls back on standard-issue charm.
These first-class singers were the Met's second choice, tapped as part of a wave of cancellations that has bedeviled this production for more than a year. The real loss is baritone Bryn Terfel, who turned over the juicy role of Scarpia to the powerful but unsubtle Željko Lučić. Scarpia is as evil as opera villains get and Lučić duly snarls and stalks, without ever quite reaching the character's fearsome core, or letting us feel the source of his power.
Still, the Met's new Tosca is a triumph of good-enough opera. McVicar demonstrates scant interest in the psychological interactions among the characters—or maybe, given the winds of crisis that have swirled around the project, he had other things on his mind. He has, instead, ensconced this cast in a production that is ready to receive the next group of singers, and the one after that. That's the true bargain Gelb has made — trading a misplaced attempt at trenchancy for a comfortably generic, adequately opulent vehicle that will serve the company's needs for years, like a reliable minivan.