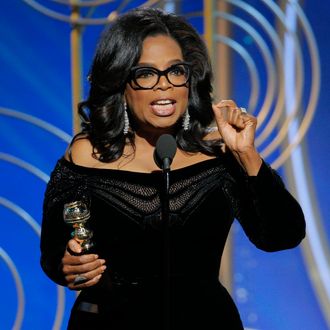 Oprah Winfrey.
Photo: Handout/NBCUniversal via Getty Images
Oprah Winfrey, the high priestess of television, film, and the universe, became the first black woman to receive the prestigious Cecil B. DeMille Award at this year's Golden Globes. After a moving tribute to Recy Taylor — a black woman who was gang-raped by six white men in 1944, became a central figure in the early civil-rights movement, and passed away just ten days ago — she launched into a monologue about the importance of the international #MeToo movement, draining the salty tear ducts of all of the ceremony's attendees, and everyone who tuned in.
This year, we became the story. What I know for sure is that speaking your truth is the most powerful tool we all have, and I'm especially proud and inspired by all the women who have felt strong enough and empowered enough to speak up and share their personal stories…




For too long women have not been heard or believed if they dared to speak their truth to the power of those men. But their time is up. Their time is up … I want all the girls watching here and now to know that a new day is on the horizon. And when that new day finally dawns, it will be because of a lot of magnificent women, many of whom are right here in this room tonight. And some pretty phenomenal men, fighting hard to make sure that they become the leaders who take us to the time when nobody ever has to say "me too" again.