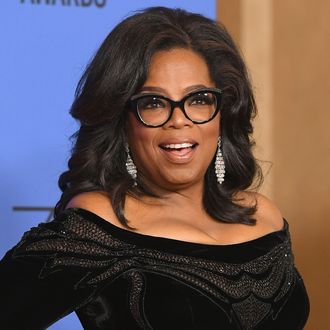 President Winfrey?
Photo: Kevin Winter/Getty Images
If Oprah Winfrey's stirring Golden Globes acceptance speech for the Cecil B. DeMille Award sounded like the dress rehearsal for her presidential inauguration, that's because it just might be. CNN now reports that Oprah is "actively thinking" about running for president in 2020, at least according to two anonymous close friends. These sources tell CNN that Winfrey has been mulling over a campaign for "several" months, but that a decision to declare as a candidate has not been made. (Reps for Winfrey did not comment to CNN.) Oprah, a Democrat who previously endorsed Barack Obama and Hillary Clinton, has long shrugged off public demand for her presidential run, telling her best friend Gayle King last year that "there will be no running for office of any kind for me." (Gayle also bet her born and unborn children that it would never happen.)
Oprah has since, however, tweeted endorsements of her presidential run and commented that, after Trump's victory, the qualifications for seeking the job weren't as imposing as she assumed. Following the Globes, Oprah's partner Stedman Graham more than hinted that she would "absolutely do it," referring to a run for the presidency. And she already has Meryl Streep's vote — the actress told the Washington Post after the Globes, "She launched a rocket tonight. I want her to run for president. I don't think she had any intention [of declaring]. But now she doesn't have a choice." Prepare yourself for that VP call, Tom Hanks.