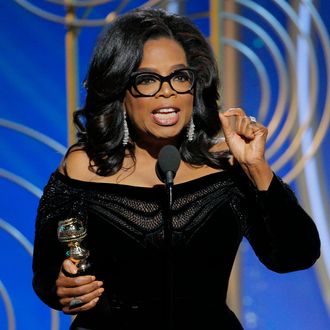 Pass the aux cord and play it on loop.
Photo: 2018 NBCUniversal Media, LLC
Pass the aux cord, we have a request: For all your weekend functions, instead of blasting the new Camila Cabello, Cardi B, or whatever your taste, treat your guests to the Song of Life, Oprah's Golden Globes speech. Now, we are fully aware that her words, which have yet to stop flowing through us, are not technically set to any music. We also see no issue and neither, apparently, does Spotify. The streaming service has added Oprah's presidential address acceptance speech for the Cecil B. DeMille Award to its New Music Friday playlist after the Globes themselves uploaded the speech to its own playlist a few days ago. Rudely, it's the very last song, but the gesture still stands. So, please, pause your gyrating to the rest of the plebs on the list and allow Oprah's spirited "Their time is up!" to turn every party into a praise dance.