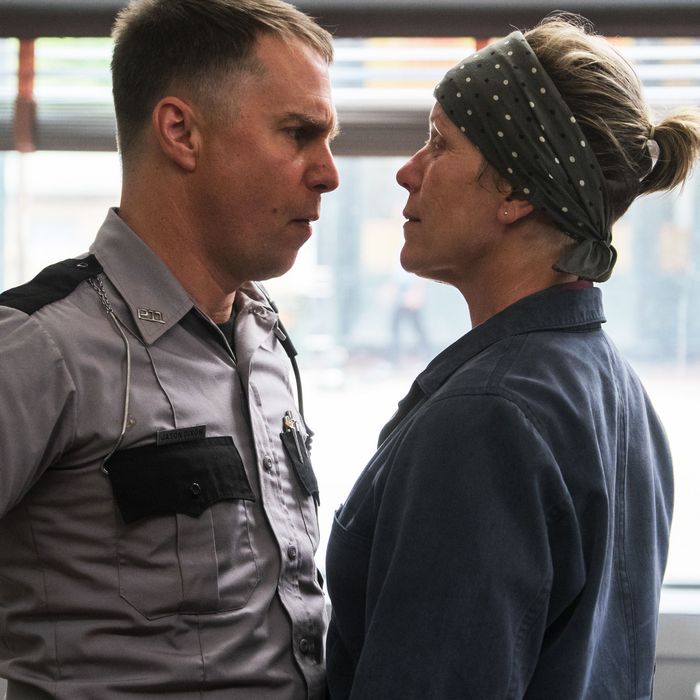 Two Golden Globe winners.
Photo: Merrick Morton/Fox Searchlight Pictures
Unlike last year, when the battle between Moonlight and La La Land became for many viewers a proxy war for the struggle against the incoming administration, the first few months of this year's Oscars race denied us the pleasures of another stark contest. In part, this was because the industry gave us enough offscreen monsters that we didn't need to turn a movie into one. But it's also because, for those of us prone to treating awards ceremonies as referendums on the state of social progress, this year has an embarrassment of worthy winners: Get Out, a horror film with a clearer view of American racism than a million liberal-humanist dramas; Lady Bird, Greta Gerwig's sensitive portrait of mother-daughter tension; and Call Me by Your Name, a love story so beautiful that, as one E! red-carpet host revealed at the Golden Globes, it made his straight friends finally realize gay relationships were as real as their own.
Amid the hubbub over #TimesUp, Oprah's speech, and James Franco elbowing Tommy Wiseau, you may not have noticed something else that happened at the Globes: With its four wins Sunday night, Martin McDonagh's Three Billboards Outside Ebbing, Missouri not only became the Oscar front-runner, it was also officially inaugurated as this year's La La Land, the movie whose awards success is seen as emblematic of America's various ills.
Few people would have anticipated either of these things happening from reading coverage of Three Billboards after its premiere at the Toronto Film Festival in September. Back then, the movie was widely pitched as standing on the right side of the current political divide, with early critics seeing Frances McDormand's Mildred Hayes as a standard-bearer for #nastywomen everywhere. (As Owen Gleiberman wrote in Variety, "She's woke, she's fierce, she's beyond shame or scruples, she's screaming truth to power, she's charged up with the wrath of an avenger.") Though the film won the festival's top prize and McDormand was widely assumed to be a strong contender for Best Actress, Three Billboards was marketed as something different from the usual toothless Oscar bait: pricklier, more raw, less interested in making you love it.
The film came out to generally positive reviews in November, when audiences began noticing something that the Toronto reviews had barely touched on — the film's odd blind spot on race. I'll let my colleague Angelica Jade Bastién go into it further later this week, but briefly: The second half of the movie largely belongs to Sam Rockwell's Dixon, a ne'er-do-well cop with a history of racist violence who gets some measure of redemption by the end of the film. Dixon's arc has made Rockwell a shoo-in for Best Supporting Actor races at the same time as it's rubbed some viewers the wrong way thanks to a noticeable bit of sleight of hand: McDonagh never lets us meet the black person Dixon is said to have tortured, which lets his past crimes stay entirely in the abstract. (Dixon does do another terrible thing onscreen, but the movie is careful to give him a very good excuse, and he subsequently suffers so much that his victim immediately forgives him.) And as Kyle Buchanan noted, the film's only other black characters are all "good-hearted ciphers."
On Twitter, NPR's Gene Demby has been one of the leading voices against Three Billboards, calling the film's rapturous reception at Toronto an indictment of the whiteness of the critical establishment: "I think festival audiences are so used to the centrality of white people's inner lives treated as the Actual Emotional Stakes that they don't get what's janky about a movie set in a town where cops torture black [people] but the plot is about thwarted justice for a white lady," he wrote in one thread. Other media outlets soon followed suit. The Washington Post's Alyssa Rosenberg has written how the film's handling of Dixon undermines its own moral convictions. At the Daily Beast, Ira Madison III, a McDonagh fan, called the film "unearned, manipulative and altogether offensive." The HuffPost's Zeba Blay compared it to a white liberal's racist uncle.
So yes, a whole lot of people did not like Three Billboards even before the Golden Globes. But on Sunday, the film's warm embrace from the Hollywood Establishment went from something theoretical to painfully concrete. The film won in Best Supporting Actor (they loved the racist-cop redemption arc), Best Screenplay (over Get Out's Jordan Peele), Best Actress in a Drama (no one was upset about this one), and Best Drama (where Get Out wasn't even competing). Martin McDonagh may not have won in Best Director, but he was part of that all-male slate of nominees, and so indicted all the same.
Accordingly, Three Billboards was treated to the ritual social-media dunking that greets all unworthy awards winners:
Three Billboards followed this up by turning in a strong showing in Tuesday's BAFTA nominations. This awards season may not have the same crackerjack finish as last year's, but as least we've finally found a good villain.