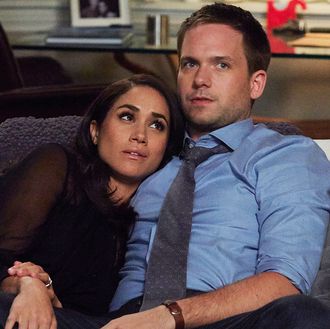 Photo: USA Network/NBCU Photo Bank via Getty Images
Meghan Markle isn't the only cast member exiting Suits: Her on-screen love interest (not to be mixed up with her real-life fiancé, Prince Harry) Patrick J. Adams is also calling it quits. Adams told The Hollywood Reporter that he decided to leave after worrying his character, Mike, would turn into "another lawyer on television." He did, however, have good news for fans worried about the handling of his and Markle's joint departures. He explained:
A lot of times when actors leave shows, a gun gets pulled out in a courtroom or something. Without spoiling too much, yes, I think Mike and Rachel are two characters that there has never been any question that they're in love and that they're meant for each other.
While he wasn't willing to reveal exact details about their characters getting married on the show, he did promise that episode 16, the finale of season seven, would be the one to look out for.
In other Suits news, USA announced today that the show has been picked up for an eighth season, sans Markle and Adams.