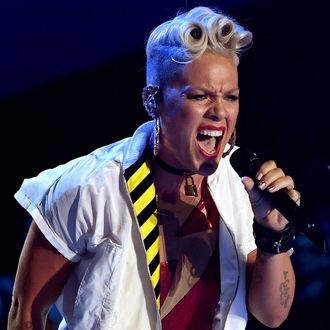 This could get interesting.
Photo: Kevin Winter/Getty Images
The NFL has announced Pink as its 2018 Super Bowl National Anthem singer after a season when the National Anthem often became more controversial than any call made during the games. Keeping Colin Kaepernick's movement alive, several NFL players, whole teams, and even owners took a knee during the anthem (or skipped it entirely) in protest of police brutality. Donald Trump slammed the protest all season, once referring to Kaepernick and the kneeling players as a "son of a bitch" who should be fired. Several National Anthem singers have since taken a knee during their performances, with the gesture repeated by artists like Stevie Wonder and Pharrell at their concerts.
Following a stunt in which Trump appeared to send Mike Pence to an NFL game last year for the sole purpose of walking out during the National Anthem protest, Pink tweeted that the president was "doing a terrible job." She went on to further blast Trump's response to the NFL protest in a conversation with Vulture — "Puerto Ricans don't have power, but you have time for this?" — noting that her fame doesn't exempt her from being vocal about her political opinions. Pink is a first-time Super Bowl performer, while Justin Timberlake will perform the halftime show for a second time. It's unclear if she'll protest during her National Anthem performance, but if we had to guess, count on her to fly in on one knee.