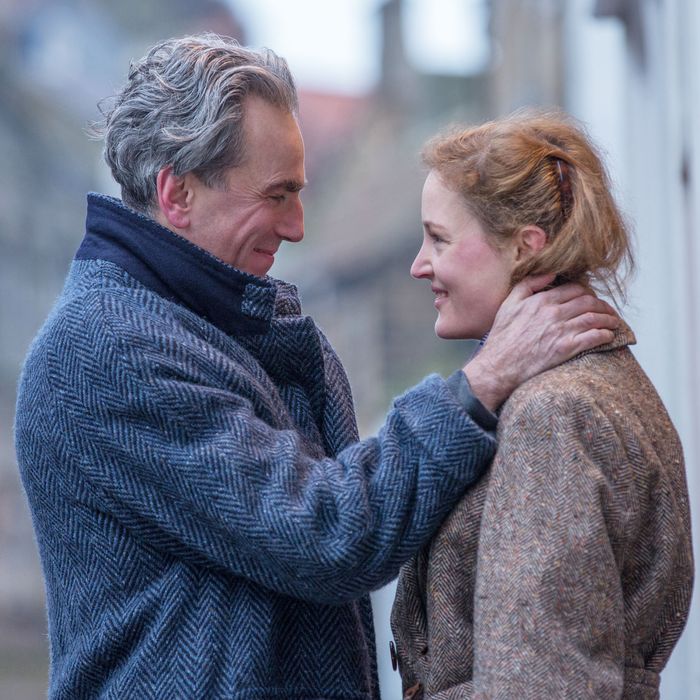 Photo: Laurie Sparham/Focus Features, LLC.
My life can be divided into two eras: Before I demanded to play Phantom Thread at a pregame, and after.
Jonny Greenwood's incredible score alternates between spooky and sprightly, elusive and extravagant. Not even the sound of buttering one's toast (which, for the record, usually does sound as grating as riding a horse across the room) can diminish this music's genius. As Phantom Thread's trio — Reynolds Woodcock (Daniel Day-Lewis), his sister Cyril (Lesley Manville), and his muse-girlfriend Alma (Vicky Krieps) — go 12 rounds, Greenwood's score feels like it's bolstering every scene, bracing us for a rupture. And in a way, it is: Music from the score plays in nearly 70 percent of the movie, or 90 minutes of music over the movie's 130 minutes. It's an effect that's alluring, dizzying; Phantom Thread's score will draw you in and wear you out.
There are quite a few benefits to drinking to the Phantom Thread score, it turns out: It pairs well with wine and (quiet) hors d'oeuvres. It also pairs well with a mixed drink featuring St-Germain that my roommate inexplicably served me. It's a way to feel luxe for less, to add some existential dread and an air of I've-become-aware-of-my-own-mortality to your going-out look. In the spirit of drinking to the Phantom Thread soundtrack, I've decided to describe every song as it sounds to me after I have had two glasses of wine.
1. "House of Woodcock" sounds like the sweet, sweet harmony of a push notification confirming a direct deposit.
2. "The Tailor of Fitzrovia" sounds like you've just walked in on Michelle Obama in your living room. She's settled in on your couch, with an episode of Big Little Lies queued up. "Reese should've really won the Golden Globe," she whispers. You both smile, first smugly, then sadly. What if Meryl overshadows the subtle brilliance of that performance in season two, too?
3. "The Hem" is a song most likely to send your phone tapping around the App Store, stressfully downloading Tinder or Bumble or Grindr or Raya. It's busy and layered and tense, like a family dinner where someone asks why you're single, whatever happened to your ex, or why you're sneaking away to your room with a bag of Doritos.
4. Some of the Phantom Thread songs — "Phantom Thread I," "Boletus Felleus" — sound a little spooky, like they're one eerie violin whimper away from going full Alfred Hitchcock or a hilariously over-the-top episode of Riverdale.
5. "Alma" begins cautiously and solemnly, like a chilly, tender embrace. Like when your best friend likes your messiest, lamest Instagram? Not out of approval, but duty. That's what "Alma" grows into: gooey, unconditional love.
6. Here is "Phantom Thread II" distilled into one haunting image.
7. "Never Cursed" is Phantom Thread's "Reconcile." Hi, Mom and Dad. It's me. Reynolds Woodcock. It's the name Daniel Day-Lewis gave me. It's a good one.
8. "Catch Hold" played at the right time feels like a burst of energy, romance, and natural light. Like running errands early on Sunday morning, when you're just hopeful enough to invest in a new succulent.
9. "Sandalwood II" soars like an opera. You are Nicole Kidman with Rosemary's Baby hair. This is Birth.
10. If we got the Harry Potter spinoff we deserved — instead of the one with Johnny Depp — it'd be about Emma Thompson as Professor Trelawney. "That's As May Be" would be her theme: ravishing, harried, and delightfully off-balance.
11. This is "Endless Superstition": There has just been a scientific discovery that bacon is actually the healthiest food in the world, and tequila will make your skin glow. Leighton Meester was Gossip Girl's rightful breakout star. You dropped your phone taking a selfie with your close, personal friend Tessa Thompson. The screen did not crack.
12. Cue "Phantom Thread III" and a horror-movie scenario that seems fitting: You know the horror of sending a text bad-mouthing someone to the very person you are bad-mouthing? You can try to play it off as "haha. Autocorrect, what??"
13. "Phantom Thread IV" sounds as sharp and high as Cate Blanchett's cheekbones.
14. "For the Hungry Boy" is Paul Thomas Anderson talking about Philip Seymour Hoffman, translated into song: "When I saw him for the first time in Scent of a Woman, I just knew what true love was," PTA told Marc Maron. "I knew what love at first sight was. It was the strangest feeling sitting in a movie theater and thinking, 'He's for me and I'm for him.' And that was it."
15. "Sandalwood I" flutters. It floats. Things are happening. This song sounds like the earliest days of a new crush: They've liked a few of your tweets (not the funniest ones, because their taste isn't that good, but enough so you're interested). You've gone out for drinks — that's the violin coming in, ever so smoothly. Not even Nora Ephron could script a meet-cute with such delicate precision.
16. "I'll Follow Tomorrow" is what those poor mice in Cinderella will listen to on the way home from their local cinema, as they seethe that Reynolds Woodcock got "Barbara Rose" — which practically requires luxe velvet and peridot silk — and they were stuck with "Work Song."
17. "Phantom Thread IV" is what plays when a fresh breakout — a coterie of whiteheads on your chin, maybe — decides to ruin your crazy, glamorous life (or even just your regular, non-Gossip Girl one).
18. The Phantom Thread score is like getting a call from that one uncle who usually pitches get-rich-quick schemes, or ordering seafood at Popeyes: This could go soooo well or be soooo cringe-inducing.