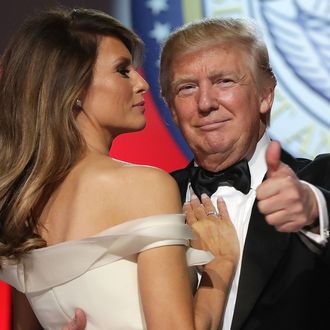 Melania and Donald Trump.
Photo: Chip Somodevilla/Getty Images
We all knew Barack Obama is a Kendrick Lamar fan, but is his successor also? Maybe not, but President Trump will reportedly see Kendrick perform live (inadvertently) when the rapper headlines the halftime show at the College Football Playoff National Championship. CNN reports that Trump plans to attend the game between the University of Alabama and the University of Georgia on January 8 at Atlanta's Mercedes-Benz Stadium.
Kendrick has been a vocal critic of the president. In last March's track "The Heart Part 4," Kendrick rapped, "Donald Trump is a chump, know how we feel, punk." He then proceeded with lyrics about Russia meddling in the election. So maybe don't expect that one to make it on Trump's version of Obama's list of favorite books and songs.