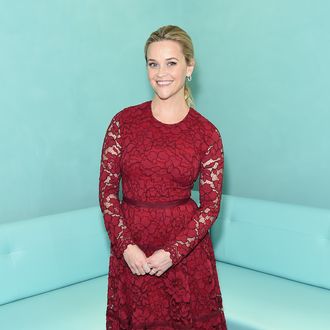 Reese Witherspoon.
Photo: Jamie McCarthy/Getty Images for Tiffany & Co.
In an effort to combat the systemic sexual harassment in Hollywood and in workplaces throughout the country, 300 leading actresses and female agents, writers, directors, producers, and entertainment executives announced an initiative on Monday called Time's Up. In an open letter, which also ran as a full-page ad in the New York Times, the group pledged support to working-class women. "It's very hard for us to speak righteously about the rest of anything if we haven't cleaned our own house," Shonda Rhimes told the Times. "If this group of women can't fight for a model for other women who don't have as much power and privilege, then who can?"
According to the Times, the initiative includes a "legal-defense fund to help less privileged women protect themselves from sexual misconduct and the fallout from reporting it, legislation to penalize companies that tolerate persistent harassment, and to discourage the use of nondisclosure agreements to silence victims, a drive to reach gender parity at studios and talent agencies that has already begun making headway, and a request that women walking the red carpet at the Golden Globes speak out and raise awareness by wearing black."
Time's Up members include Ashley Judd, Eva Longoria, America Ferrera, Natalie Portman, Rashida Jones, Emma Stone, Kerry Washington, Reese Witherspoon, Jill Soloway, Lena Waithe, and many many more.