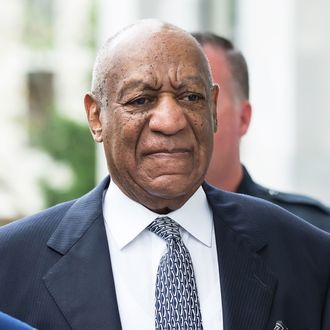 Bill Cosby.
Photo: Gilbert Carrasquillo/Getty Images
On Thursday, prosecutors in the Bill Cosby retrial filed a new motion requesting that 19 other accusers be allowed to testify this time around. During the first trial, in which Cosby faced three charges of indecent sexual assault against Andrea Constand, they'd asked for 13 accusers; the judge, however, ruled that only one other accuser, Kelly Johnson, could testify. That trial ended in a hung jury last June. Prosecutors are now asking that Judge Steven T. O'Neill reconsider his original decision so that other accusers can testify on the basis of "prior bad acts," which the state of Pennsylvania allows if such separate testimonies can demonstrate an identical crime pattern. During deliberations, the jury asked the judge to define "unconscious," a fact the district attorney's office used as support in its filing for needing more accusers. "This evidence is relevant to establish that an individual who, over the course of decades, intentionally intoxicated women in a signature fashion and then sexually assaulted them while they were incapacitated, could not have been mistaken about whether or not Ms. Constand was conscious enough to consent to the sexual contact," they said.
According to the AP, Janice Dickinson, who detailed her own Cosby allegations to New York in 2015, could be among the 19 accusers asked to testify if the motion is granted, in addition to the 12 women whose testimonies were shut out of the original trial. (Prosecutors say they interviewed 50 women total.) Cosby, 80, is being retried for the alleged sexual assault and drugging of Constand in 2004 at his Pennsylvania home, which he has maintained was consensual. (He cannot be tried for any of the allegations brought up in the testimonies of the other accusers in this trial.) Court proceedings are scheduled to begin on April 2.