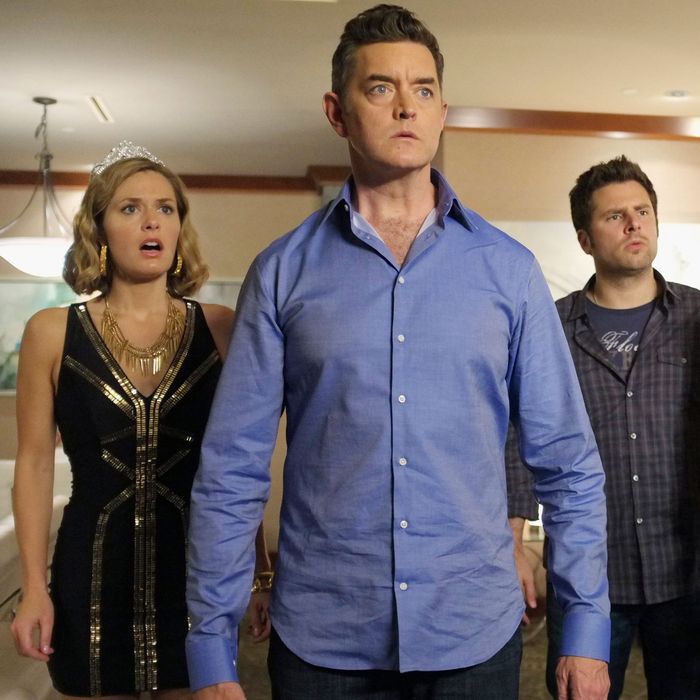 Photo: USA Network/NBCU Photo Bank via Getty Images
Thanks to the television overlords overseeing the Peak TV era, Psych returned to the small screen in December for a very funny reunion movie, which caught up with Shawn, Gus, and their merry gang of lovers and friends after a three-year hiatus. But in the joyful aftermath of Psych: The Movie — how many times have you muttered,"Don't be the comma in Earth, Wind, and Fire" at this point? — there's even more good news for Psych-Os: The entire series finally returned to a streaming service thanks to Amazon Prime. (In fact, this Psych superfan didn't realize it until another superfan told me the news. Advertise better, Amazon!) Since we've already recommended some essential episodes to watch, we decided to do an even deeper dive to recommend ten more. If you like Psych, but don't want to commit to the entire series, here's what you should add to your queue.
The "Cloudy … With a Chance of Murder" Duo (Season 1, Episode 12; Season 8, Episode 3)
Standing on its own, Psych's original "Cloudy … With a Chance of Murder" episode is pretty much your average hour of blue-skies programming — predictably silly with a cut-and-dry conclusion. (The gist of it: A weatherman is murdered while boning a lady in front of a station's green screen. Who's the culprit?) But seven years later, "Cloudy" fulfilled its comedic destiny with an ingenious twist, as the show completely remade the episode with a different conclusion and a few humorous tweaks. All of the actors came back for this "remake," which is a testament to how much people love the show — and how much people love seeing Shawn try his hand at being a lawyer.
"Scary Sherry: Bianca's Toast" (Season 1, Episode 16)
James Roday has said that "Scary Sherry" is one of his favorite episodes of the series, and it's not just because John Landis directed it. As a biting satire of urban legends, Shawn and Gus are more than delighted when asked to protect a bunch of sorority girls from their house being haunted, following the suspicious death of a pledge. Tonally one step away from full-out slasher, they soon have to deal with a sister's grisly electrocution death and the threat of even more murders piling up. Also, this episode has the wonderful subplot of Lassiter being temporarily assigned to a new partner named Goochberg. "Gooch," with her insistence on continuously insulting Lassie in her blinged-out blouses, is an icon.
"Murder? … Anyone? … Anyone? … Bueller?" (Season 3, Episode 2)
Ah, yes, the requisite John Hughes high-school-homage episode. Lucky for Psych, what could've been an easy-misfire narrative instead transforms into a genuinely suspenseful ride of trying to determine why the former prom king and queen would want to murder someone at Shawn and Gus's reunion, and then have the gall to cabbage-patch the night away on the dance floor like nothing's wrong. (The reunion was meticulously organized by Gus, obviously, right down to the orange slices in the punch.) Try to count the amount of Hughes references peppered throughout, because there are a lot!
"Tuesday the 17th" (Season 3, Episode 15)
Without giving the fun twists and turns away, let's just say that this homage to Friday the 13th isn't what you'd expect it to be, despite the "summer camp on a lake" setting and the opening sequence of a counselor seemingly getting attacked in her cabin by a hooded figure. If "Scary Sherry" was on the brink of a slasher narrative, this is the ultimate reward, with counselors slowly dropping like flies as Shawn and Gus are forced to stay on the campgrounds overnight due to a storm. If faced with a situation like this in the future, be like Gus: Scream profusely and refuse to leave the cabin under any circumstances. C'mon, son!
"High Top Fade-Out" (Season 4, Episode 7)
Finally, we are blessed with Dulé Hill's singing chops and flashbacks filled with '90s wigs. When one of Gus's best friends from college is murdered — despite being a stand-up guy in the eyes of the law — he's forced to reconcile with his estranged college a cappella group in the hopes of discovering what happened. The encryption-centric plot is fine and all, but this episode is really all about the fiery banter (and occasional crooning) between Hill and guest stars Kenan Thompson and Jaleel White. And the synchronized screaming! Future spinoff, USA?
"Shawn Takes a Shot in the Dark" (Season 4, Episode 9)
Psych was never reluctant to lean into its dramatic side — the "Yin/Yang" trilogy is the perfect example — but this season-four episode is still surprisingly laugh-free as Shawn gets kidnapped and tortured while uncovering the sinister truth about an overturned ice-cream truck. If anything, the episode confirms just how astute Shawn is at the art of observation and survival, if you weren't fully convinced by his previous outings: He escapes a car trunk while on a highway, uses the woods to his advantage while fleeing, and quickly ascertains the weaknesses of his kidnappers with only a handful of items. If you still don't believe in his erudition by the episode's end, then we really don't know what will convince you.
"Think Tank" (Season 4, Episode 14)
This episode is quintessential Psych with its premise and silliness level: What if a well-funded leader of a think tank hired a group of geniuses to prevent the assassination of an important businessman, but actually used all of that well-informed intel to kill the man himself? (Yes, Shawn and Gus are considered geniuses in this scenario, even if they're the only ones who request trampolines and Skittles in addition to their consulting fee.) The slow burn of the discovery is complemented by Shawn's gung ho insistence of leading the new security detail — check the woman's baby, hi-ya! — as does the presence of the late, great Miguel Ferrer as one of the fellow think tank-ers.
"Chivalry Is Not Dead … But Someone Is" (Season 5, Episode 4)
Any episode of comedic television automatically benefits from the presence of John Michael Higgins, and Psych gives him the perfect sounding board to play a con man who seeks enjoyment in duping wealthy older women out of their fortunes. Or is he? Shawn and Gus attempt to find this out after one of his most promising students turns up dead, infiltrating his "art of gentlemanly seduction classes" to possibly crack the case. Or, you know, maybe brush up on some seduction techniques for themselves.
"Heeeeere's Lassie" (Season 6, Episode 11)
Honestly, it was only a matter of time before Lassiter got the temporarily deranged-psycho treatment. And to come in the form of a Shining homage? Perfection. Our dear Lassie makes the quick and irrational decision to move into the swanky apartment of a suicide victim, and is quickly thrust upon a disturbing situation — blood oozing from light fixtures, spooky noises from the walls, basically the textbook definition of "haunted." But when Lassie himself starts going crazy and exhibits symptoms right out of the Stanley Kubrick playbook, Shawn and Gus are forced to discover the source of this disruption as quickly as possible. Mostly because Lassie keeps trying to kill them with an ax.
"Deez Nups" (Season 7, Episode 7)
Consider this the spiritual sequel to "Last Night Gus." As the episode that effectively propels the series into its final stretch, the extremely funny premise and unexpected crime-related detour of Lassiter marrying his fiancée at some random hotel-casino complex — we really needed those party-bus scenes with all of the guys, Psych — takes a sharp turn when Juliet finally discovers that Shawn isn't really a psychic. Shocker, girl! And at the wedding reception no less! It's a glass-of-water-to-the-face heard 'round the world and gives her something that Psych often relegated to the background in past seasons: a legitimately compelling story line for Juliet that puts her in full control of what's to come.