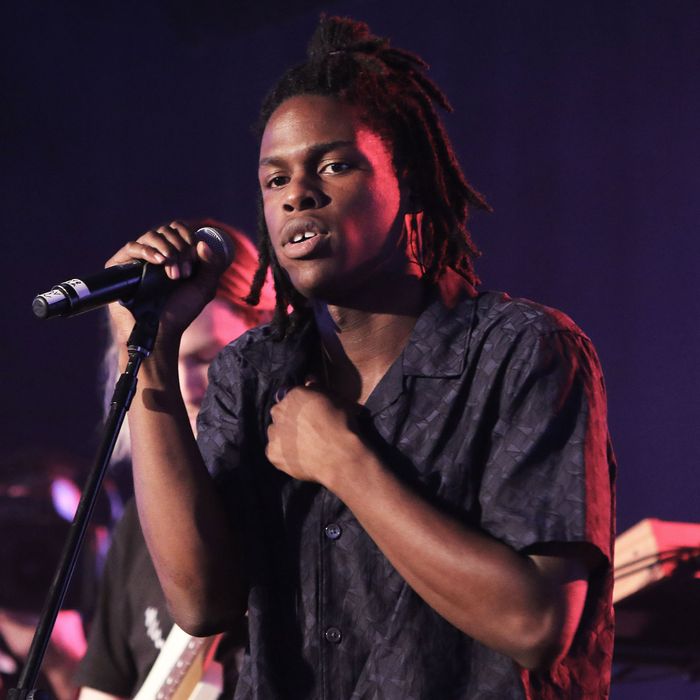 Daniel Caesar.
Photo: John Parra/Getty Images for Revolt Music
In October 2016, Carl Chery, head of artist curation for Apple Music, went on Zane Lowe's Beats 1 radio show to premiere a record for the first time. He had selected Daniel Caesar's "Get You," a soft R&B ballad with Kali Uchis, but Chery was nervous that the record wouldn't connect in the modern R&B climate. "The two guys that I had success with at that time in terms of championing early [in R&B] were Bryson Tiller and 6lack," Chery says. "I'm like, this is what's easy to break in the streaming era — anything post [Kanye West's] 808s [& Heartbreaks], post [Drake's] So Far Gone, post [the Weeknd's] House of Balloons." While those artists reoriented R&B around somber synths, bruising beats, and glum blots of bass, Caesar's single was glossy and unerringly gentle, a tranquil bubble of funk. "As much as I loved 'Get You,'" Chery remembers thinking, "I was like, is this gonna work?"
The answer was yes: "Get You" has accumulated more than 100 million streams between Spotify and YouTube; last month, it cracked the Top 25 on Billboard's R&B/Hip-Hop Airplay chart. And it's not the only acoustic R&B ballad that gained mainstream exposure in 2017. Motown singer Kevin Ross's "Long Song Away" climbed to No. 12 on the radio chart, Sevyn Streeter's "Before I Do" (Atlantic) reached No. 15 and Solange's "Cranes in the Sky" (Columbia) made it to No. 23.
These songs all ignore the blueprints that have been key to commercial success in R&B for almost a decade. "Long Song Away" is a triumph of simplicity, little more than a bright guitar and handclap. "Before I Do" has roots in the shimmering soul of the mid-'70s Isley Brothers. The ticking drum pattern and throbbing strings in "Cranes in the Sky" point to Al Green's "I'm Glad You're Mine." Taken together, these songs amount to the beginning of a soft-soul revolution in R&B's mainstream. "R&B is having a quiet resurgence right now," says Ezekiel Lewis, who recently stepped down as senior VP of A&R at Motown Records. "And it's going to get louder and louder."
Consider the worthy ballads that withered on radio's vine in the last few years. Jazmine Sullivan earned four Top 10s from her first two albums, but few programmers played her 2014 single "Forever Don't Last" (No. 37). The internet's soft soul earned them a Grammy nomination in 2015 but no mainstream hit singles. Last year Yuna teamed up with Usher, an airwave stalwart, on the bewitching "Crush;" but the demure duo failed to reach the Top 20. Even when D'Angelo released his long-awaited album, Black Messiah, at the end of 2015, all the furor surrounding his unexpected comeback could not propel the filigreed ballad "Really Love" into the Top 20. And it wasn't just a matter of radio being out of touch: Not one of these songs has amassed more than 50 million Spotify streams to date. By way of comparison, Bryson Tiller's "Don't" has accumulated over 350 million streams since 2015, and a more recent R&B hit, SZA's "Love Galore," has nearly 150 million in just eight months.
There have been, of course, exceptions to the moratorium on soft. John Legend's "All of Me" enjoyed crossover success, but it benefitted from a walloping Tiesto remix during the EDM craze; as a result, the single did better on pop radio than R&B/hip-hop radio. The Weeknd's "Earned It" also did well, but it enjoyed a major push from both Republic Records — the label has few R&B acts on its roster, allowing it to focus its considerable resources on single artists — and placement in 50 Shades of Grey, which grossed more than half a billion dollars worldwide. These are special cases, not repeatable trajectories for the average R&B singer hoping to cut through. Standard wisdom became, "We need a club record first," says the young Cash Money signee Jacquees. "Growing up watching the game, I knew that artists would drop a fast record, then a mid[-tempo], and then, maybe, a ballad."
So up-and-coming singers connected with hip-hop producers — DJ Mustard in the case of Ty Dolla $ign and Tinashe; Syk Sense for Bryson Tiller and Khalid — to score hits attuned to radio trends. They disguised soft tracks with gnashing layers of programmed drums (Kehlani, Ro James, Tiller). Another possible route to wider exposure was to show an affinity for dancehall (Tory Lanez, PARTYNEXTDOOR) as singles influenced by Jamaican pop music swept to prominence around the globe.
Even proven hitmakers with radio-track records mostly steered clear of quieter singles. Beyoncé smartly spearheaded her Lemonade campaign with the heavily armored "Formation" and "Sorry;" when she finally put out the more balladlike "All Night" as the album's fifth and final single, it stalled out short of the Top 20 on R&B/Hip-Hop radio. Jeremih did not release the strum-happy "Paradise" as a single from Late Nights, and the Weeknd did not release the piano-heavy "Tell Your Friends" as a single from Beauty Behind the Madness. When he tried to score with the relatively spare Starboy ballad "Die for You" — again, a final single, maybe a chance to catch programmers napping — he too failed to hit the Top 20 at radio.
Lewis believes that the efforts of singers willing to risk releasing a soft ballad helped create the current moment, even if it initially seemed like those records were dead on arrival. "Some people are going to be sacrificial in the effort to bring a certain style of music to the forefront," he says, pointing to Sullivan and D'Angelo. "They're pioneers. Because of their efforts, they break the door down."
The door may have finally been kicked open by Solange and Childish Gambino, artists with considerable cachet outside of music, whose respective singles "Cranes in the Sky" (released October 2016, peaked at radio in February 2017) and "Redbone" (released November 2016, peaked July 2017) completely ignored current trends in commercially popular R&B. These tracks were a natural fit for R&B-focused stations; had they been put out by anyone else, they would likely have been ignored by mainstream stations, which favor hip-hop. An artist like Childish Gambino, though, has enough clout to get the benefit of a programmer's doubt. "['Redbone'] broke through because of who made that record and the impact of who he was as an actor on Atlanta and in the Star Wars movie and the fact that he was on the Golden Globes shouting out Migos," said Colby Tyner, VP of programming at Radio One, which owns or operates 57 stations in the U.S., during a conversation in August. Similarly, Solange's status as a cultural tastemaker enabled her to avoid the usual mainstream veto on soft soul. And once "Redbone" and "Cranes in the Sky" enjoyed some success, a mainstream programmer might see new potential in "Long Song Away" or "Before I Do."
The increasing ubiquity and power of streaming playlists also gives these types of songs a second home. "I came up at a time before streaming, where the only sort of popular exposure you could get was radio, and that translated back and forth to the clubs," says Warren "Oak" Felder, a songwriter and producer who has worked with Usher, Tamia, and Kehlani. "That was when A&Rs were constantly telling me for a first single: tempo, tempo, urgency, urgency. Then the streaming services came along — streaming culture last year really picked up — and it wasn't about the club anymore. It's what you're listening to cleaning the house, cooking or at home reading a book."
Sure enough, Spotify comes filled with selections like Chilled R&B (1.03 million followers), the Sweet Suite (930,000), All the Feels (770,000), Soul Lounge (420,000), and Soul Coffee (340,000), all of which can nurture a rising R&B act's ballad. The California singer H.E.R., who favors a serene sound — "Midtempo is my uptempo," she says — earned an RCA record deal and subsequently accumulated millions of streams without an airwave hit. "I'm on my first headlining tour, and I totally sold it out with no songs on the radio," she says. "You can build a fan base just through streaming."
But hearing something that might fit on the Sweet Suite play on mainstream radio suggests that soft soul is moving from a healthy fringe scene to a more central position in cultural consciousness. On the airwaves, Ross's "Long Song Away" or Streeter's "Before I Do" are swimming upstream in hostile waters without a "chill" tag to protect them from being steamrolled by a boisterous Migos hit. But these songs are playing an important role. "I love a good turn-up; you've seen me on my Instagram," Streeter says. "But records like 'Before I Do' speak to people's Monday-through-Friday experiences."
Labels appear to be investing in more acts that strive to do the same, suggesting that they now believe soft soul can be profitable for them. Last year, TDE announced the signing of SiR, who has experience writing for Jill Scott and LeToya Luckett. His debut is due at the top of 2018, and songs like "Dreaming of Me" sound like potential hits in the new climate. "People are starting to give [R&B] the look it deserves," he says. "And R&B is taking on a whole new body with artists like Sabrina Claudio and Xavier Omar."
Many more hushed R&B tracks have not yet had their moment on the charts. Most of Kehlani's recent singles have been outfitted with rugged low-end so they can play after hip-hop hits, but she released "Honey," a beat-less acoustic number, in October. A year and a half ago, when Dvsn released their debut, they didn't touch the airwaves; their serene single "Mood" was added into rotation by more R&B radio stations (eight) than any other R&B track last week, according to Nielsen SoundScan. "There are other songs that we can loop in: Jesse Reyez's 'Figures,' Sabrina Claudio's 'Frozen,' Brent Faiyaz's 'Talk 2 U,' Jorja Smith has records like that as well," Apple's Chery says. "There seems to be a shift sonically, and I think we're in the beginning stages."
This shift has historical precedent: In the mid-1970s, the soft subgenre known as Quiet Storm followed the wave of hardboiled funk which became commercially popular earlier in the decade; in the early 1990s, brittle New Jack Swing fusions gave way to the honeyed stylings of Boyz II Men and Toni Braxton. "We've been stuck with the same sound for a while now," Chery says. "808s [& Heartbreaks] is gonna be ten years old next November. So Far Gone is eight years old, nine years in February. If you look at any other time in history, I don't remember a sound being that dominant for that long."
West and Drake established a formidable template by working with programmed beats that drifted and brooded and stung. Now the industry has what Lewis calls "proof of concept" that a different sound — softer, brighter, flecked with guitars, aligned with a long tradition of soothing soul — can also hold its own. "You've seen it work before, and once you see it work, anybody could be like, 'Let's try it over here,'" Lewis continues. "In that exercise, some great music is gonna break through."