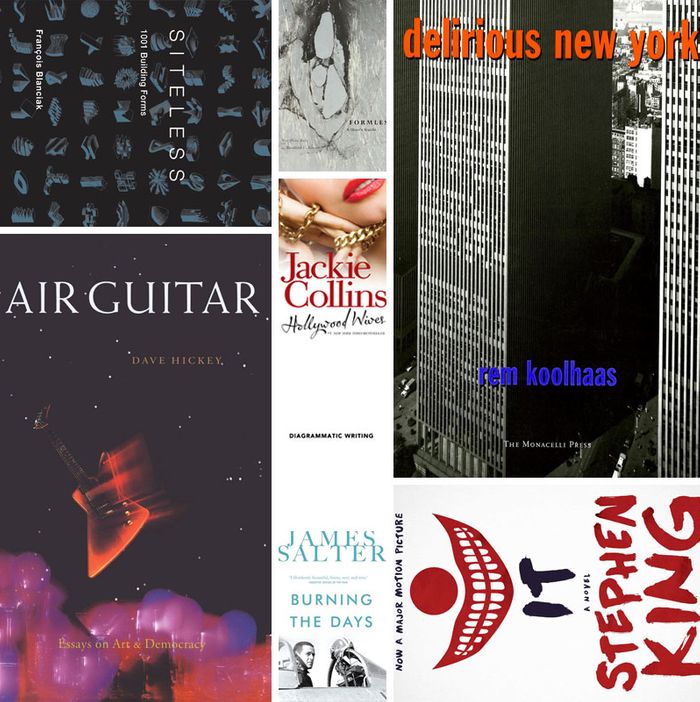 Bookseller One Grand Books has asked celebrities to name the ten titles they'd take to a desert island, and they've shared the results with Vulture. Below is architect Rafael de Cárdenas's list.
Hollywood Wives, by Jackie Collins
A perhaps guilty but very fun beach read that will inspire your evening's antics. Jason, the interior designer to the stars who is also a male hooker pimp is '80s at its finest.
Siteless, by François Blanciak
Not a book for reading, but an endless source of ideas in form-making … sometimes we need that.
Air Guitar, by Dave Hickey
Nonfiction that reads like Jackie Collins, Air Guitar is the contemporary classic in cultural criticism, and further to that, more of a celebration than a critique on the cringe-worthy. You might never love being American more than after you read this. The section "Unbreak My Heart, An Overture," has loosely defined my practice and life.
Delirious New York, by Rem Koolhaas
A cultural analysis and breakdown of Manhattan specifically, and the physical attributes as well as social needs that defined New York's iconic and exportable look. The culture of congestion, by now largely surpassed by Asian and South American cities, defines Manhattanism as the goal for the contemporary city … in 1978.
Formless: A User's Guide, by Yve-Alain Bois and Rosalind E Krauss
I've been reading and rereading the various essays in this book for 20 years with only a fleeting understanding of the Informe. The book pays homage to George Bataille's term, meant to suggest that the 20th century breaks down the historical and potential monumentality of the form to plasticity … or something like that.
Diagrammatic Writing, by Johanna Drucker
A book analyzing the use of form in text. It instructs in the literal use of spacing and placement of letters and text to further manipulate meaning.
Burning the Days, by James Salter
A loose autobiography written almost in stream of consciousness with expertly rendered romance. This book is melancholy moodiness at its finest. It does not seem to rely too much on veracity. I yearn for this version of America and aspire to be this type of New Yorker.
Hearts of the City, by Herbert Muschamp
An exhaustive compilation of articles written over a 20-plus year career, primarily about architecture — but framing architecture as the symbolic protagonist of our lives. Buildings create stories and suggest lifestyles and thusly acquire stories of their own, all in this book. No need to read in order.
Holidays on Ice, by David Sedaris
A collection of short stories that focus on the holidays in America and unpack the ridiculousness of so many universal but also intimate traditions. I tend to read part of it every holiday season and laugh very hard out loud each time.
It, by Stephen King
It is so long. I've never read the whole thing at once, but have jumped around a lot. I've enjoyed doing that, although the '80s mini-series, plus the excellent, recently released film, complicate that relationship to the book.