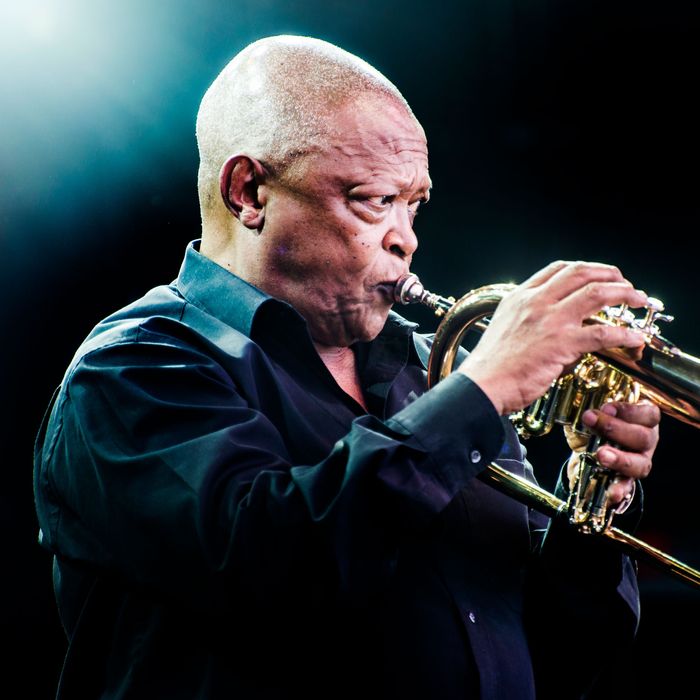 Photo: Judith Burrows/Getty Images
The series of black-and-white photos was entitled "Hugh Masekela With the Trumpet From Satchmo," as captured by South African photographer Jürgen Schadeberg in 1954. It documented what would become a profound moment in music. A South African minister who was deported due to his anti-apartheid views, Reverend Trevor Huddleston encountered jazz legend Louis Armstrong on a trip through the United States in the early 1950s. He told Armstrong about a South African youth orchestra he had started called the Huddleston Jazz Band and Satchmo promptly shipped a trumpet back to South Africa, where the instrument wound up in the hands of the orchestra's young trumpeter, Hugh Masekela. That collection of joyous photos (and others like this supreme snap of Masekela and horn in the South African townships that was the cover for his 2004 autobiography, Still Grazing: The Musical Journey of Hugh Masekela) captured a moment that in a subtle way signaled the passing of a torch, with the music of African-Americans roving back to Africa.
Trumpeter, composer, flügelhorn player, singer, and staunch anti-apartheid political activist, Masekela went on to have a formidable musical career that spanned a half-century, drawing to a close as he passed away from prostate cancer this week. Masekela's arc included topping the charts in America, serving as his country's great musical ambassador (even while in exile for 30 years), and becoming one of the biggest stars in Africa, appearing alongside the likes of Fela Kuti, Bob Marley, the Byrds, and Paul Simon. With a tone as bright as a sunbeam, a vocal delivery that imparted great levity, and an underlying sense of unity that brings all music together, Masekela fused the township rhythms of mbaqanga with jazz, soul, soft pop, Afro-Cuban, and later disco and electro-funk into a distinct blend. But Masekela's music imparted both a sense of lightness as well as an iron resolve of resistance.
Born in a coal-mining town outside of Johannesburg, South Africa, Masekela's early musical education came courtesy of a grandmother who ran a shebeen, an illicit bar serving colored South Africans (who were forbidden to drink alcohol during that era of apartheid). Masekela enjoyed success in the late '50s as a member of the country's first all-black bebop group the Jazz Epistles, alongside pianist and future jazz star Dollar Brand (later known as Abdullah Ibrahim). But the violent Sharpeville massacre in March of 1960 (wherein South African police opened fire on a crowd of Africans, killing 69), made such a band untenable. In response, the government subsequently banned gatherings of more than ten black people, which made playing concerts impossible.
Masekela fled his homeland for the next 30 years, yet never renounced his citizenship, hoping to one day return to South Africa. He relocated to London but soon found himself in New York City, where with the help of Harry Belafonte and South African pop star (and his future first wife) Miriam Makeba, Masekela wound up with a scholarship at the Manhattan School of Music. In New York City, Masekela fell under the sway of bebop and its luminaries: Thelonious Monk, Charles Mingus, and trumpeter Miles Davis. As Masekela once recalled on NPR's "Morning Edition," he received succinct advice from Miles about finding his own voice on the horn: "Nobody knows the s*** that you know and if you can put that s*** in your s***, then we're going to be listening."
As an African expat living in the U.S., Masekela was in a unique position to bridge the two lands through his music, which also meant bearing the brunt of injustices from both countries. With his 1968 album The Promise of a Future, Masekela stumbled upon a smash hit with the lilting "Grazing in the Grass." But as that album revealed, Masekela was unafraid to have harsh reality abut pop fantasy, including numbers sung in Zulu like "Vuca (Wake Up)" and the smoldering soul jazz of "Bajabula Bonke (The Healing Song)." And he followed up "Grazing" with the blunt "Mace and Grenades," a song that tackled the injustices of both South Africa as well as his new adopted country, shouting the chorus: "I'm in jail in here / I'm in jail out there."
Shadowing such success was a growing alcohol-and-drug addiction, making Masekela's life and career itinerant and intermittent, be it marriages or record labels. The music flourished and remained buoyant, though, the bright melodies of Masekela always underpinned by a solid polyrhythmic foundation, a sense of beat that made him a touchstone for hip-hop producers and dance DJs alike in the generations to come. Mid-'70s albums like Masekela Introducing Hedzoleh Soundz, I Am Not Afraid, and The Boy's Doin' It were made when the trumpeter left the U.S. for West Africa, where he fell in with Nigerian Afrobeat master Fela Kuti. And much like Kuti, he crafted a sound that implored your body to move while the lyrics offered up messages of empowerment and defiance. A sense of Pan-Africanism arose, as the title track on The Boy's Doin' It put it: "The boy's doin' it in the jungle, doin' it in Hollywood / he's doin' it in Zaire … he's doin' it in Alabama."
When the apartheid government of South Africa again brutally murdered innocent children in a 1976 tragedy known as the Soweto Uprising, Masekela again put such injustice to music with "Soweto Blues," with its unflinching chorus: "When the children were being shot/ where were you?" Thanks to Makeba's cover of the song, it became an international hit as well as a rail against the institution of apartheid, as was Masekela's "Bring Him Home (Nelson Mandela)," a rallying cry disguised as pop chorus. Throughout the decade, he continued to inspire, from performing as part of Paul Simon's Graceland tour to founding the Botswana International School of Music, allowing young African children to also study music. With the release of Nelson Mandela in 1990, Masekela returned to South Africa, his music having helped effect the most profound change imaginable.