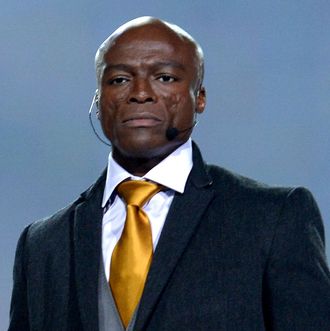 Seal.
Photo: Kevin Winter/Getty Images for dcp
TMZ reports that singer Seal is being investigated by the LAPD for sexual battery. Tracey Birdsall, an actress and former neighbor of Seal's, tells TMZ that Seal allegedly "lunged" at her in fall 2016 during a visit to his house. Claiming that the two were strictly friends, she says Seal attempted to kiss her, commented that her outfit implied that she was asking for it, and proceeded to grope her breasts. Though Birdsall says she refused his advances, at one point demanding that he stop, she claims Seal repeatedly groped her again on his couch and shamed her for her outfit. Birdsall says she left his home shortly after and has had no contact with him since the alleged incident.
In a statement to TMZ, Seal has "vehemently denied" the allegation, saying he "intends to vigorously defend himself against these false allegations." A source with the LAPD tells TMZ that Birdsall filed the police report on Saturday and that an investigation is ongoing. Birdsall tells TMZ that she was empowered to come forward after watching Seal encourage women to tell their stories in his video defense of a photo he posted on Instagram last week that accused Oprah Winfrey of having prior knowledge about the Harvey Weinstein allegations.