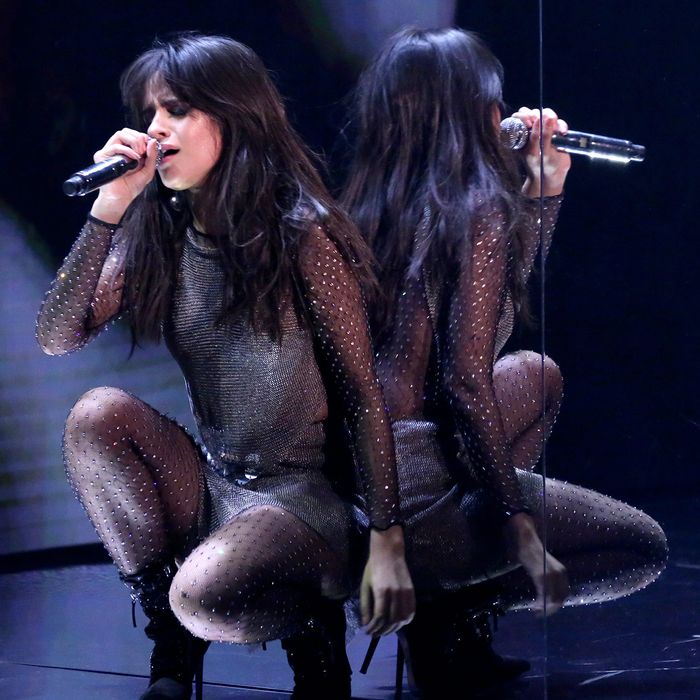 Cabello.
Photo: NBCUniversal Media/Getty Images
Singing groups are social experiments, and there are salient reasons why none ever last. Classic lineups rarely even make it five years past the whirlwind of a debut studio album. They all reach a point where they're beholden to too many different moving parts — too many ideas for new directions, too many voices angling to be showcased in recordings, too many temperaments clashing on cramped bus and charter plane rides — and dutifully splinter or break. The Supremes changed members like outfits, and Destiny's Child's ten-year reign is split almost down the middle between the LeToya and LaTavia period and the Michelle Williams period. (We should study whatever TLC and the Backstreet Boys did to tough it out over ten years in one piece.) The group Fifth Harmony was formed from 2012 X Factor contestants the show's judges deemed too rough around the edges for solo stardom, but too talented to send packing. The quintet finished third in the season and rocketed into a joint venture with judges Simon Cowell and L.A. Reid's Syco Music and Epic Records imprints that gave rise to a three-year streak of gold and platinum singles … and plenty of band drama.
It's easy to get lost in the web of fan theories and speculative blog posts seeking to pinpoint the moment where Cuban-American singer Camila Cabello decided 5H wasn't her bag anymore. The matter of whether she jumped or was pushed is a "she said"/"they said" question still being litigated in the court of public opinion. The group swears Cabello simply flaked out on all discussions about their future one day, but the singer has recently suggested that a growing urge to write for 5H and to periodically record outside of it was shut down, after which she simply followed her muse. (The feistiest theory belongs to the sect of 5H's loyal base of Harmonizers that cobbled together a shadow history of perceived strife between Cabello and the group gleaned from strategic Twitter favorites and turns of phrase in interviews.) It's unclear why a singing group would refuse more input from its best pure singing voice, the one that brought X Factor celebrity guest mentor Marc Anthony to tears on national television. Perhaps Fifth Harmony strove too hard to be a democracy when it shouldn't have.
What's clear after the release of Camila Cabello's debut solo album, Camila, is that performing at center stage was always the 20-year-old singer's destiny. Camila is a slight collection, just ten songs (and a radio edit of the single that opens it) clocking in at less than 40 minutes. That's more than enough time to showcase Cabello's wares; by the first chorus of opener "Never Be the Same," she's shot up to her fluid upper register to describe all the different drug addictions her attraction to a boy feels like. "All These Years" collapses into a fluttering choir vocal over bachata-indebted guitar licks. "She Loves Control" emotes note-perfectly while Skrillex and Frank Dukes fuse downcast beats and flamenco guitars underneath.
Camila isn't just the girl group alum's coming out party as a solo artist who can carry all her own tunes. It's respectably audacious Latin pop in its own right, from the salsa notes anchoring the smash single "Havana" to reggaeton accents informing "She Loves Control" and "Inside Out." This might come as a shock to listeners expecting Cabello to advance the state-of-the-art R&B/pop her old group favored and to boy-band and girl-group aficionados used to solo acts springing out aimed squarely at pop's mainstream, but Camila's style honors the singer's Cuban heritage, and its tone is tailored to her voice.
Camila is the rare modern pop album whose dance-floor entreaties feel almost perfunctory, like exercises the singer has already grown tired of, whose true character is revealed in its crestfallen deep cuts. It's heavy on tearjerkers in part because Cabello's most devastating in the expression of longing and regret. "Real Friends" serves the requisite Fifth Harmony shade ("I thought that I could trust you, never mind / Why all the switching sides? Where do I draw the line? / I guess I'm too naïve to read the signs"), but the song is more concerned with working through the isolating mechanics of distrust than lashing out at a perceived wrongdoer. "Consequences" takes a similarly judicious path through the aftermath of a breakup; Cabello memorializes the good along with the bad and kicks herself for not seeing a split coming, since "loving you had consequences."
This is a peculiar vibe to hang a breakout debut solo album on. (Would Justin Timberlake be as big of a star if Justified leaned more on the wounded mood of "Cry Me a River" and "Still on My Brain" than speaker-knockers like "Señorita" and "Rock Your Body"? It's hard to say.) But Camila's deep, maudlin notes feel appropriate to her story as a performer whose creative freedom was earned through a year of very public static with friends and business partners, and more important, they feel true to a body of songs originally titled The Hurting. The Healing. The Loving. Camila, in all its most sobering moments, speaks poignantly to the pains of growing up, where we learn how to deal with people one mistake at a time.