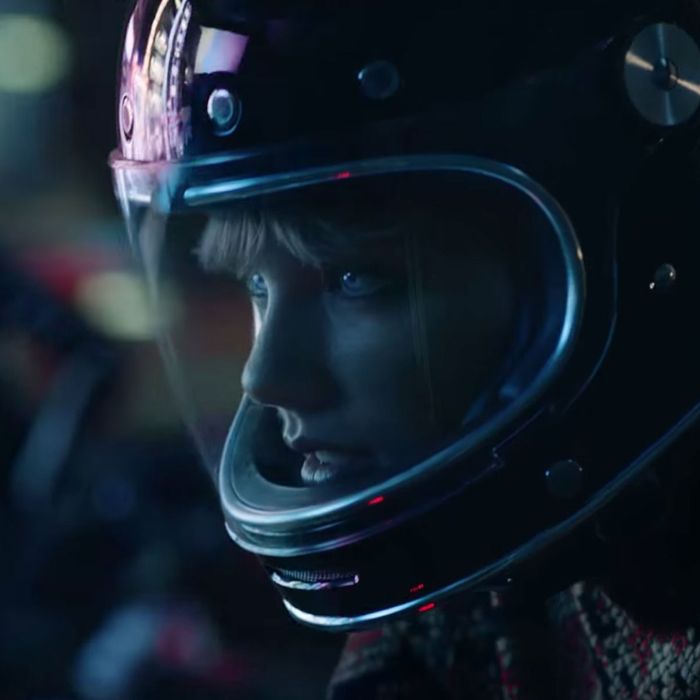 As far as music-video formats go, the easiest is likely A Night on the Town. The story pretty much shoots itself: Just put the star at the center of elated gatherings of youthful dancers and clubgoers, and fill in the transitions with personal closeups, stunning urban skylines, and rides in cars so fine they seem like sculpted motion. Before you know it you've got a short film everyone can get behind; if the song can carry its own weight, it can carry the montage of an accelerated bar crawl without any stress. Like the drinking that fuels many an actual night out, the end result is as simple as it is appealing.
The montage for Taylor Swift's "End Game," released last night, marks the first time in her music videos the artist has ever been filmed drinking at a bar. Capably directed by Joseph Kahn, her take on A Night on the Town takes place on a grand scale: There are three cities instead of one, with the scenes in each location helpfully prefaced by bold captions. There's Taylor on a yacht and/or riding shotgun with Future in Miami, Taylor lounging in Tokyo at a karaoke bar with Ed Sheeran, and then Taylor at some posh London townhouse.
Wherever she goes, night and revelry follow: It's a winning, warm equation, and all the more so given how much Swift's image has needed a pick-me-up over the past year and a half. Reputation sold well, but that hardly meant it's been growing an audience for itself. Sonically and tonally, Swift's latest album had more exits than on-ramps; it's clearly a collection for the (admittedly vast) horde of diehard Swifties, offering few charms for the ordinary, non-fanatic listener. Affable and spacious, "End Game" stands out on an album primarily defined by an atmosphere of chilly, brittle isolation. It's also the only Reputation track that's managed any hang time in the Hot 100 without a video to boost its rating.
Of course, the presence on the song of both Sheeran, whose singles haunt the upper reaches of the single charts like a guilty conscience, and Future, fresh off the year of "Mask Off" and HNDRXX, did much to contribute to the relative success of "End Game." But the song works because it finds a way to hospitably accommodate and tactfully partition these two very different guests while still placing the host firmly at center stage, an achievement Swift's world tour video deftly reflects, placing all of North America and the Pacific Ocean between Sheeran and Future while positioning Swift as the jet-setting tie that binds.
All the stops are pulled out to revise Swift's outdated girl-next-door image into something more mature but equally personable: It's a successful effort. Taylor's a mega-millionaire woman celebrity, but here, framed by darkness, flashing lights, and vivid colors, she's also doing Stuff We All Could Do: drinking, playing a game on her mobile phone, hamming it up at a karaoke bar, cheerfully failing at Dance Dance Revolution, really getting into Future, having a crowd of friends with only a few white girls and no white guys, aside from part-time rapper and honorary West Indian Ed Sheeran, in sight. (This global-minded video is as close to a repudiation of white supremacists as you're likely to get from Swift.) There is a kitty cat and a smiling bulldog; there are french fries, though given the London setting I suppose they're called chips. What's not to like? It's a pretty good video for a pretty good song, and if it hoists "End Game" into the Hot 100's upper 1 percent, I wouldn't be surprised or mad.