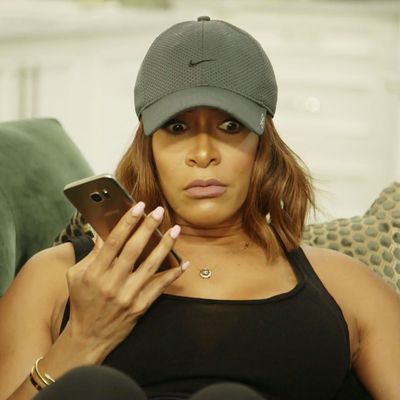 I have to add another kind of episode into the Real Housewives rotation, and that's the Message Episode. Every season has a couple, and I feel like we've already gotten more than our fair share of the Message Episode this season. It's hard to snark on the Message Episode because it's people doing good things, but man, oh man, it is compelling to watch these women try to wring some drama out of charity. Let's see exactly how these Housewives try to center themselves during a tragedy.
Porsha is in a warehouse with her sister, and they're helping prep supplies to ship to Houston after Hurricane Harvey for an event she's organizing. Two things. First of all, we're living in an era when so much happens that Hurricane Harvey feels like it happened three years ago. In a world when Trump is trying to ban fat chicks or whatever other bullshit he's trying to do, a flashback to a literal hurricane feels quaint. I need a real-time Housewives reaction to the news. Secondly, remember when the terrible Harvey in the news was a literal hurricane? How fucking quaint. Because no one else is willing to film with Porsha just yet, she's relegated to adventures with her sister. And because Shamea is going after that peach, Shamea calls Porsha while she's getting ready for her event and asks if Porsha needs any help. Porsha is still uncomfortable after Shamea called her out for not going to her wedding or her bridal shower or whatever producer-agreed-upon slight it was. Porsha isn't so quick to accept Shamea's help.
Later that night, Cynthia heads out in a '70s-inspired fantasy to meet Kandi in a wine bar. They're going to recap the Elephant in the Room event, and Cynthia tells Kandi that she's going to Houston for some charity work. She's organizing an event and wants to know if Kandi will be able to head down to Houston to stop by either of their events. Kandi is quick to remind the camera that she's already given about $20,000, so she's gonna stay her ass at home with her kids. Kandi also says that she's not going to go down the street with Porsha, let alone all the way to Houston, and neither are the other women, so maybe Cynthia should have suggested these plans.
Kenya was also supposed to show up to this wine-bar date, but she FaceTimes with Cynthia and tells her that she won't be going to Houston this weekend. Cynthia says that Kenya is more focused on being a wife than giving someone a good read. No one checks in with NeNe this episode, so who knows her excuse to say in Atlanta.
Shereé has a good excuse, though: She's still under doctor's orders to rest up, so she's just at home taking phone calls from her prison bae. Tyrone is annoyed that NeNe keeps asking about his crimes. Apparently, NeNe was always inviting Tyrone to hang out with her on the set of The Apprentice. Yo, maybe that's why Tyrone never wanted to come hang out, NeNe.
Porsha and Cynthia arrive in Houston and we enter the sincere portion of the episode. Porsha talks about her grandfather's history of charity and how her family struggled to afford food. It's very touching and shows a different side to Porsha … then Shamea's broke ass shows up! SHAMEA! Shamea even comments that it feels like she's intruding on a sister's trip. If you feel yourself commenting on how awkward it is for you to be there, leave.
Meanwhile, Kandi is at home with Riley, practicing her driving. I feel like it was just yesterday that Riley was a completely un-telegenic kid, and now she's a completely un-telegenic young woman. Block calls while he's waiting for his new son to be born and asks if he can spend some time with Riley for their birthdays. Riley shrugs and rolls her eyes, and when she walks into the house after Block hangs up, she BURSTS into tears. Kandi, in a rare move of good parenting on these shows, takes off their mics and comforts Riley. Like, can we not? Riley clearly doesn't want a relationship with Block and clearly doesn't want to navigate that on TV. Can we just leave this teen alone?
Back in Houston, Cynthia is throwing a benefit concert for the people of Houston. She says that while ideally they would make money, they're just there to lift spirits. That feels like a bad benefit concert. One that doesn't make money. Porsha pledges $5,000 and that might be the only money they see all night. At the end of the night, though, Kenya shows up! Shamea and Porsha make up in Porsha's hotel room, and they decide not to talk too much about their feelings. Porsha demands an apology from Shamea, and Shamea wants that goddamn peach, so she gives one.
The next morning, Kenya sets up a volunteer session with Habitat for Humanity because she didn't show up to put on a fancy dress. She's here to help. That's great and all, but Kenya, you were a beauty queen. Putting on a fancy dress is probably your strong suit. Meanwhile, Cynthia is planning on skipping most of Porsha's event to go with Kenya. Porsha says that she feels like the side chick to Kenya. That's probably the first time Kenya has been someone's first priority in a relationship.
Porsha arrives at her event and begins passing out food and supplies to the people of Houston, and I'm moved. At one point, they run out of hot food in the buffet, and Porsha has a breakdown because she feels so guilty. How can you hate on that?
Kenya heads to the Habitat for Humanity site and proceeds to leave her nieces in a tent in the hot sun, refuses a water break from Cynthia, and tells Shamea, "FIGURE IT OUT, BITCH," when Shamea can't find where the house is. Kenya is on a mission to prove that she's THE MOST CHARITABLE. She doesn't need rest; she doesn't need water. She only needs GIVING. Shamea is assigned to do the trash bags. Figure it out.
At the end of the day, they meet up at a barbecue joint to unwind, but Porsha is upset that Cynthia didn't show up at her event, and Shamea is pressed that Kenya took an Immortan Joe approach to the volunteer work. Kenya shows up after the kitchen closes and asks for water anytime someone tries to confront her about her bullshit.
Here is a complete list of the people with a legitimate beef about this trip: Porsha.
DO WITH THAT WHAT YOU WILL.
Once Kenya is well-hydrated, Shamea says that she felt dismissed during the entire Habitat for Humanity workday. Kenya says that Shamea is being too sensitive and nothing was personal. Shamea is out here on her own, no glam squad, no producer. Personal is all she has. Kenya says it's not about Shamea, but it's about the people of Houston. Okay, KENYA, maybe you shouldn't be stomping around talking about how you're there to get your hands dirty unlike some people and ordering everyone around while you're volunteering. You didn't organize the volunteering. You are also a volunteer.
Kenya has enough and storms off to the bathroom and demands that her mic be taken off. She's done.
She says, and I quote, "I don't give a fuck about any of them bitches." She says that this is why her husband never wants to show up because all they do is drag her through the mud. She also keeps saying that she doesn't want this to turn into a moment. Y'know how something gets turned into a moment? You storm off like a teenager into the bathroom rather than calmly dealing with your feelings and the feelings of others around you. Y'know it's bad when the producers remind the Housewives to think about other people's feelings and it gets left in.
Kenya's unreasonableness is about to reach new lows, and I'm here for it.
ALSO, IS EVA THE DIVA ABOUT TO JOIN THE CAST? I. AM. SO. READY.