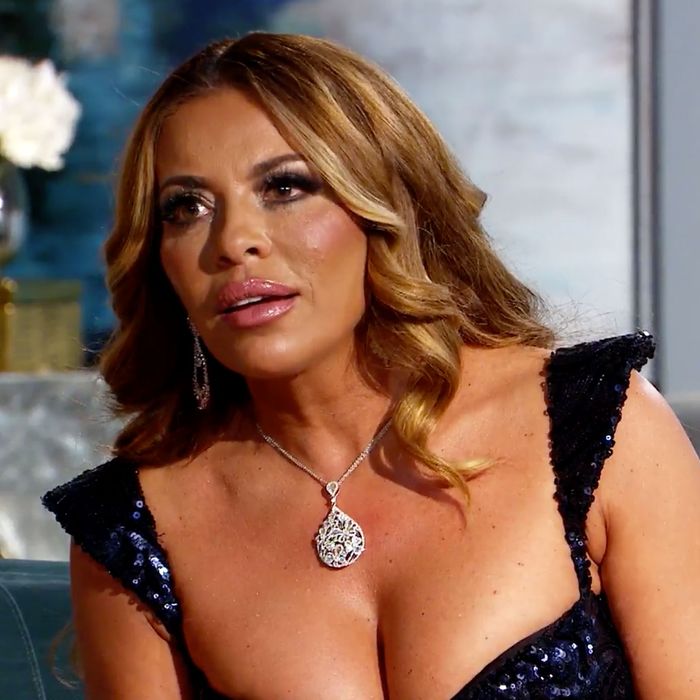 How do you solve a problem like Kim D.? If you're Teresa, you scream, "You're lucky I'm on probation, bitch." Siggy and Dolores maintain that they don't regret walking in the Posche fashion show and that Kim D. remains their friend. Andy Cohen observes that Teresa used to be Kim's friend, too, an astute point that is seemingly lost on everyone. "I have friends since I was 8 years old," Kim D. announces, and I am overtaken by morbid curiosity about what an 8-year-old version of this woman must have been like.
Melissa would like everyone to know that the supposed fundraiser didn't raise a ton of funds: The fashion show's beneficiaries received just $1,000 each. That sounds a little … embezzle-y. Kim D., in turn, calls the rest of the women "frauds," slander that Teresa is having none of, thank you: "If people were looking at your shit, your 1099s, W-2s, I'm sure you would be [miming handcuffs] click click too, bitch." Free idea for a 12:51 a.m. SNL sketch: a commercial for Teresa Giudice's tax-prep firm. But Tre isn't finished, next accusing Kim D. of running a "prostitution company." Prostitution company is the mood for 2018; prostitution whore was so 2009. "That word gets thrown around a lot in this franchise," says Kim D., taking the words (well, word) right out of my mouth. It's apparently widely rumored that Kim D. is a madam, a claim she denies, but not too aggressively. "I would have no problem being a madam," she says.
Before Kim D. leaves, Danielle takes her to task for failing to intercede when she infamously had her weave yanked out by Ashlee Holmes at (where else?) a previous Posche fashion show. In a flashback clip that may very well be RHONJ's own Zapruder film, it sure looks like Kim D. did try to help, chasing after Teresa and trying to restrain her. For once, she is vindicated. A choked-up Siggy pleads for peace among the group, and Melissa — who definitely calls her "Ziggy" in a slip that goes uncommented on — accuses her of having her cake (ahem) and eating it too, what with her generations-long blood feud with Margaret. Siggy notes that it takes two to tango, and it's like they've invented an improv game where you can only speak in clichés.
How is Siggy coping with empty-nest syndrome? She's thinking about retiring to Boca. (Hopefully she remembers that she'll need to wait for Sophie to graduate, too, before she moves.) Siggy is happy because her hormone pellets have given her eight hot-flash-free months; Michael Campanella is happy because Siggy agreed to cut back on work and also because her pellets are making her super horny. In response to a fan question, she defends her choice to host a plastic surgeon at her female-empowerment retreat. Siggy's advice: "Everybody has a credit card. You live life once. Do what you have to do." It is thanks to this logic that I have spent five figures on burritos ordered via Seamless.
Speaking of sage financial advice, Siggy and Margaret yell about who has more money throughout the hour, but it's about now that Siggy brings up the news that Margaret filed for bankruptcy. Yes, Margaret says, because her company was sued for copyright infringement by Vineyard Vines, over their use of a similar little whale. She maintains this is "common business practice" in their industry. "Everything that I teach my kids not to be is her," says Siggy. Andy mentions that RHONJ alum Dina Manzo tweeted that she's obsessed with Marge Sr., then somewhat awkwardly transitions to the fact that Dina and her boyfriend were assaulted and robbed last year. Anyhoo.
Dolores and Dr. David are still an item. When Andy asks if there's a possibility that she and Frank might get back together, Dolores answers, "I don't feel like we're apart anymore, to tell you the truth." This elicits a gasp from the group, but no, don't be fooled. They are not, in fact, sexing one another; Dolores is simply toying with my emotions. I am both Lindsay Lohan and/or Hayley Mills's characters in The Parent Trap–level invested in their reconciliation.
Where could we go from here but to "Welcome back, scumbag?" Was Danielle telling the truth when she said Dolores warned her that Teresa only cares about money? Danielle denies making the story up, and Dolores recalls having some kind of conversation over the phone with Danielle, on the way to her house. I do think my beloved Dolores must have said something a little more than innocuous. "I don't think any of your intentions were ill," Danielle acknowledges. For a moment, it seems like they just might be able to patch things up. Then Danielle tells Dolores to shut up, and Dolores calls her a "skank," and Danielle calls her a "fat fucking bully" while getting her makeup touched up. Same as it ever was.
For the first time ever (that I can recall), a Housewives reunion segues into the Hitler portion of the evening. Margaret defends her comment for the umpteenth time, insisting that she wasn't literally comparing Kim D. to Hitler, but trying to make an analogy about how you should judge others on how they treat everyone, not just you. "Did Kim D. build concentration camps?" Siggy asks, rhetorically. "We don't know," Teresa answers, in the one moment of the reunion that actually made me laugh out loud. Andy comes out on the side of Team Margaret, explaining that both he and his parents, as Jewish people, were not offended by what she said. Also, you know, she's apologized. Something tells me that'll never be good enough for Siggy, and that something is Siggy shouting, "Shame on you!" at Margaret exactly four times in a row.
The reunion wraps up with crew members wheeling out a cake — not just any cake, but an exact replica of the cake Siggy had made for Melissa, right down to the "Happy Birthday" and the homage to Envy's wallpaper. No one dares to throw it this time, although Teresa does smushes her slice into Andy's face. "Can I lick it off?" she asks. No. She may not.