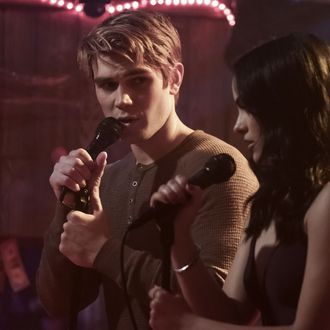 Sing out, Archie!
Photo: Katie Y/Katie Yu/The CW
The Riverdale teens love sex, intrigue, biker gangs, karaoke, murder investigations, and apparently revivals of infamous Broadway flops. Kevin Keller, Riverdale's resident gay best friend and theatre aficionado, will be directing a high school production of Carrie: The Musical in an upcoming musical episode of the CW show. The musical, based, like 1976 movie, on Stephen King's novel, premiered on Broadway in 1988 and famously closed after only a few performances when it received terrible reviews. Since then, Carrie: The Musical has become something of a cult classic with recent Off-Broadway, London, and L.A. productions. (Riverdale creator Roberto Aguirre-Sacasa wrote the 2013 Carrie remake and has experience writing Broadway musicals, so it's safe to say he's a fan)
In the Riverdale High staging, Cheryl Blossom will play the lead role, of course, while Archie and Veronica will play Sue and Tommy. Riverdale's resident ice queen herself Alice Cooper is playing Carrie's mom (apparently they got her to sing, too). Casey Cott, who plays Kevin on Riverdale, helpfully shared the rest of the cast list on Instagram. We're very glad Ethel Muggs found herself a part.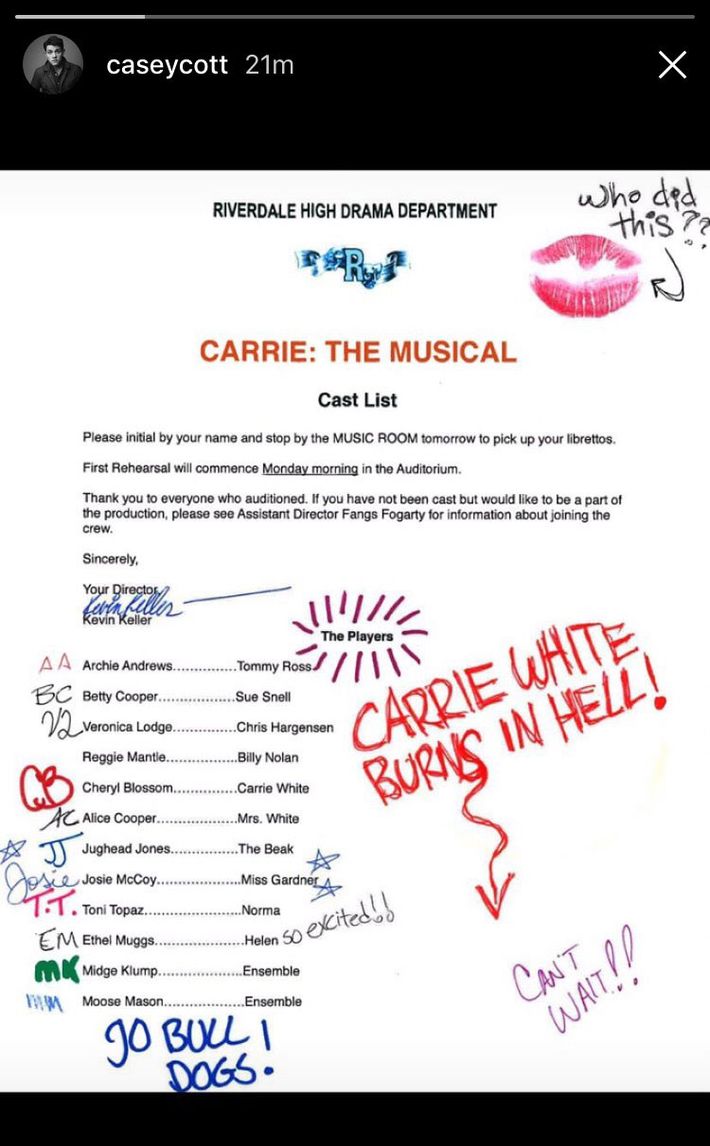 The episode will air Wednesday, April 18 and include a total of 11 songs. Take that, NBC's high school musical drama Rise!