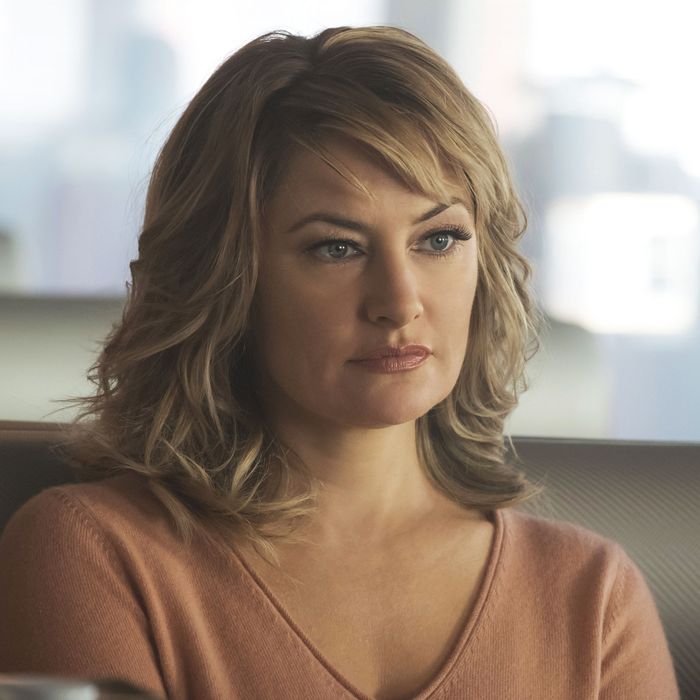 Photo: Katie Yu/Katie Yu/The CW
It's an open secret that Riverdale — the CW's comics-to-screen sexy teen drama — is just as inspired by David Lynch's Twin Peaks as its actual Archie Comics source material. (Showrunner Roberto Aguirre-Sacasa has even said that "all roads" in the series will lead "right back" to Peaks.) Hardly an episode goes by without a Lynchian homage — not just narratively, but visually. And for someone who's been devoted to the gospel of Peaks for years and relatively lukewarm on Riverdale, these visual homages have single-handedly kept me interested in watching the show progress.
Take the most obvious connection: The presence of Mädchen Amick. Riverdale is more than happy to remind viewers of her small-town waitressing past.
Ah, yes, that's a damn good cherry pie.
The most impressive callback came in Riverdale's Christmas episode, which decided to give the mysterious "Black Hood" villain the BOB treatment — slithering over the couch and all. This one made me shriek in delight.
Although every single television villain pales in comparison to BOB. Obviously.
Amick herself marveled at this staircase shout-out.
Let's just take a moment to appreciate Grace Zabriskie.
While Riverdale's Jason Blossom wasn't wrapped in plastic à la Laura Palmer's infamous death reveal, the slow pan of his body — and his discovery in the local river — is practically screaming, Hey, let's get a coffee-lovin' special agent on the case!
All that's missing is some subtle facial debris.
This last one technically deals with dialogue more than imagery …
… but does the supernatural, driven-to-white-hair madness of Clifford Blossom remind you of anyone else in particular? Say, this cool and hip guy?
Damn fine visuals, we'd say.