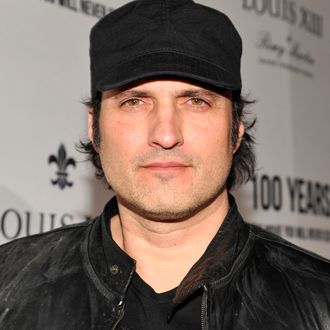 Photo: John Sciulli/Getty Images for Louis XIII
On Wednesday, director Robert Rodriguez released a statement responding to new claims Rose McGowan made about him and the movie they worked on together, Grindhouse, in Vanity Fair. Rodriguez claims that the publication did not reach out for comment and writes, "There are some key factual errors in the piece." He offers his version of a few key details from the story, and writes:
These inaccuracies may appear to put me at odds with Rose, but I have no quarrel with her. It's when publications don't fact check these basic things, you end up with something inaccurate that then has to be disqualified.
In the Vanity Fair article detailing McGowan's upcoming memoir, the actor claims that Rodriguez, whom she was dating at the time, used his knowledge that she was allegedly raped by producer Harvey Weinstein as a "tool for mind games" while filming Grindhouse. In her memoir, she reportedly points to the scene where Quentin Tarantino, playing a character, attacks her character. She writes of the experience, "I was losing my grip on sanity." The article mentions that McGowan was ultimately betrayed by Rodriguez when he "sold our film to my monster." The movie was released by Bob Weinstein's Dimension Films.
Rodriguez previously released a statement that painted a different picture. In October, he claimed that he knew about the alleged rape, and he cast McGowan as a way to spite the producer. He said that he never spoke openly about Weinstein because McGowan had signed an NDA, but he still believed that Weinstein found a way to "bury the movie anyway."
He is sticking by those claims now, and adds that he couldn't have betrayed McGowan with the sale of the film to Bob Weinstein, because the Weinsteins were already attached to fund it before McGowan started shooting her scenes. Though McGowan didn't start filming until late March 2006, in Rodriguez's account, the Weinsteins began funding the project in November of 2005. "There was certainly ample time for Rose to decide not to be in a film funded by the Weinsteins and reject the movie and the script before shooting ever began," he argued.
He also writes that the Tarantino character was in every draft of the script dating back to one he sent the cast and crew on January 24, 2006, and the scene wasn't filmed until five months after that. "If there was any objection to the scene there was plenty of time to address it," Rodriguez states. "It was never brought up as being an issue. In fact, the point of the scene was always to be empowering because it's when her character turns the tables against her oppressors."
McGowan's memoir, Brave, which details how the alleged rape in 1997 affected her life and career, including working on Grindhouse, is due to be released at the end of January.