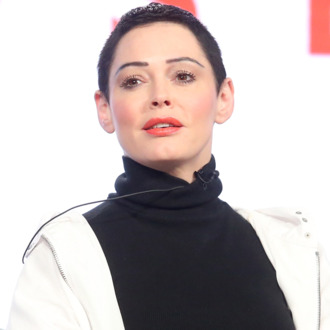 Rose McGowan.
Photo: Frederick M. Brown/Getty Images
Rose McGowan's representative issued a statement on Wednesday in regards to Harvey Weinstein's most recent efforts to discredit her claims that he sexually assaulted her. On Tuesday, the same day McGowan released her memoir Brave (which details the alleged rape that took place at the Sundance Film Festival in 1997 and the aftermath), a lawyer for Weinstein released emails from actor Ben Affleck and McGowan's former manager, who both wrote accounts of McGowan's interactions with them at the festival that clashed with her allegations. McGowan says that she told both of them about the assault shortly after, but in their emails to Weinstein or his lawyer both denied hearing about a nonconsensual act.
McGowan was quick to respond to the released emails on Twitter, but her representative offered a less-profanity-laced rebuttal to Weinstein's defense, according to Entertainment Weekly. "Yesterday's statement from Mr. Weinstein and his attorney Ben Brafman unequivocally proves a continued attempt to malign, smear, and 'slut shame' Rose McGowan." The rep called Weinstein's actions an "affront" to McGowan and the "hundreds of women" who have come forward with their accusations of sexual assault, harassment and other misconduct, adding that, "This is a sad, pathetic old-fashioned sexist attempt to undermine obvious truth, and the gaslighting will no longer be tolerated."
McGowan was one of dozens of women who accused Weinstein of assault or harassment in New Yorker and New York Times exposés last fall. McGowan received a $100,000 settlement in 1997 from Weinstein following the alleged misconduct.