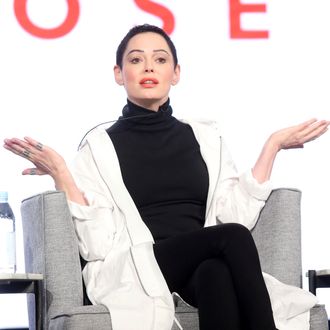 Photo: Frederick M. Brown/Getty Images
Artist, activist, and soon-to-be-author Rose McGowan came to a Television Critics Association panel on Tuesday for her upcoming E! documentary series armed with two requests for reporters: Don't say the name of her "monster" during the session, and "be respectful."
The Citizen Rose docuseries will follow McGowan as she releases her highly anticipated memoir Brave, and it will incorporate footage she has filmed herself over the last three years. A former actress, McGowan was one of the first women to call out Hollywood mogul Harvey Weinstein for his decades of alleged sexual abuse. Last October, McGowan said that Weinstein raped her in a hotel room at the Sundance Film Festival in 1997, and her memoir will reveal more details she has kept to herself.
Citizen Rose showrunner Andrea Metz said she and other executives at Bunim/Murray Productions met with McGowan last year, and began filming the series in August. "I personally was intrigued by her and her story and the fact that she hasn't been given the opportunity," Metz said. "She's been talking but nobody's been listening, so we wanted to be able to do that. I think that there are a lot of women all around the world that don't have the platform Rose has, don't have the means to do what she can do. I hope this messaging can help women who don't have to sit in silence for years."
The five-episode docuseries will kick off with a two-hour special on January 30, followed by four episodes scheduled to air in the spring. On Tuesday, McGowan addressed a wide array of topics during a question-and-answer session.
On losing her privacy:
"It's pretty all-access and it's not always pretty. I have no glam team. My brand is raw and it's true and it's my truth. And I am just one of so many. This is my form of volunteer work. It is a huge, huge loss. When I was on TV before, it was really hard. But the terms are different this time. The sale is different and I won't allow myself to be sold like how I was. If we all look at what we can do volunteer-wise, this is what I can do. I was waiting for someone else for so long, you guys. There was just nobody else who came."
On the Time's Up movement at the Golden Globes:
"I don't watch red carpets, not my thing. I was asked to lend my name to a letter to aid female farm workers from sexual harassment. I said, 'Of course.' The next thing I know, I'm endorsing Time's Up […] I know the people that are behind this. I know where they have their meetings. I know who's sponsoring them. I know a lot of things […] People see from the outside, they see the red carpet. I see it from behind the scenes, so I know a lot of things. I think the system is massively broken. That's a Band-Aid to make yourselves feel better for what you've all known about, and been silent witnesses or participants in. And no, I don't forgive."
On making the Sundance Film Festival safer for women:
"I think what I'm doing with this show overall will actually do that. And I think what's going on now globally will do that exact thing. A lot of people have questions for me. I'm going, 'Wait, I'm going as fast as I can.' I'm addressing as many things as I can […] 96 percent of directors in DGA are men. Fix that. Then you have a different Sundance, won't you?"
On worries that the pendulum has swung too far:
"I don't think so! I don't think the pendulum has swung too far, not by a long shot. We are talking about the recorded history of women. We all know who the real-deal people are in this town. We all know."
On believing that men can change:
"I hope so. Really hope so. I don't know. Personally, I think with sociopaths, that's an impossibility. One of the producers on my album is this lovely man […] and he says he and his male friends talk about times they've gone too far. We're viewing how we've worked, how we've operated, how we've done things. Yeah, we can reset."