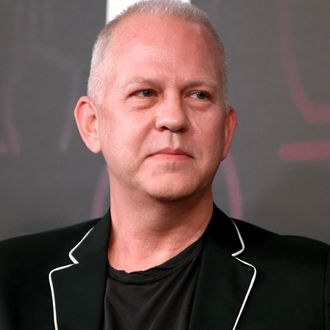 Ryan Murphy.
Photo: Emma McIntyre/Getty Images for Entertainment Weekly
After several years of creating multiple hit series with Fox's television studio, producer Ryan Murphy might be leaving the company. According to the New York Times, the heavy-hitting TV creator might choose to leave the studio after Disney acquires most of 21st Century Fox. The Times reports that he is "weighing whether he would stick around" when his contract expires sometime next year.
Murphy told the Times that he was "very emotional" about the merger. "Three months ago, I thought I would be literally buried on the Fox lot," he said. He voiced his concern that the executives he worked with would be replaced and his fears that new owners might change the Fox "brand." "Am I going to have to put Mickey Mouse in American Horror Story?" He asked. Disney executives allegedly assured him the answer was "no."
Though nearly all of Murphy's projects have been with Fox, including Feud: Bette and Joan, American Horror Story, Glee, and Scream Queens, Murphy has recently branched out. He signed a deal with Netflix for his One Flew Over the Cuckoo's Nest Nurse Ratched prequel series. Whether he would completely jump ship for the streaming giant, however, remains to be seen. "I'm sort of interested to see what that company is going to look like before I make any decisions," he said.