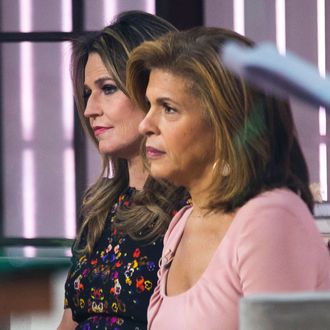 Photo: Drew Angerer/Getty Images
On Tuesday, NBC announced that Hoda Kotb would be joining Savannah Guthrie as the new co-host of the Today show, a little over a month after Matt Lauer was fired from the role amid allegations of sexual misconduct. Now, Guthrie and Kotb are speaking out about Lauer's termination in a new interview with People, calling the accusations against him "deeply disturbing."
The pair, who co-hosted the program the morning they learned about both the allegations against Lauer and his termination, said their hearts were broken that day.
"That feeling was shared through our whole newsroom and our whole Today show staff, because it sounds like cliché or a promo line, but it happens to be true: We are family, and we do love each other, and families do go through hard times, and when that happens in good families, you just get closer," Guthrie told People.
Kotb explained that she and Guthrie were on "autopilot" that morning, and that they don't even recall holding each other's hands on air. But they do remember saying a prayer and feeling a huge responsibility to their staff. "Just so they remember this is bigger than one person, it's bigger than Matt, it's bigger than me, it's bigger than Savannah, it's bigger than all of us," Kotb said.
As for Lauer, Guthrie said that she knows he's currently working on his family. "Of course our hearts go out to the brave women who have told their stories," Guthrie added. "What we are experiencing and processing now is how to honor and remain a true friend to someone even in spite of learning things that are deeply disturbing. And we are trying to navigate that path with integrity."