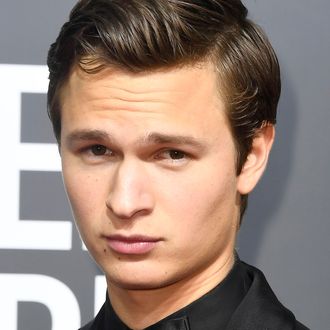 Ansel Elgort.
Photo: Frazer Harrison/Getty Images
Hey, Upper West Siders, Vulture here: your one and only source into the scandalous lives of your favorite La Guardia alumni. When former classmates Call Me by Your Name's Timothée Chalamet and Baby Driver's Ansel Elgort were on the Golden Globes red carpet Sunday night, they exchanged some fun banter about who was more popular in high school. Ansel says Timmy, because Timmy was a noted rapper. Timmy says Ansel, because Ansel was cast in the school plays and was cool enough to be the subject of a school-calendar fundraiser. A calendar, you say? With photos?! We needed to know more. After a thorough investigation, a well-placed La Guardia alum assures Vulture that Timmy was in fact more popular. What's more, according to our source, many felt Timmy ought to have been cast in those plays Ansel starred in. (Also, there's some drama about what actually happened to the money made from those Ansel calendars, which sounds like it would make for a very compelling second season of American Vandal.)
But back to that calendar. While that original La Guardia high school fundraiser is out of print, the photos are still available on Elgort's sister's site. Vulture readers of taste and distinction, we pose this question to you: Which month do you prefer? The month that finds our Baby Driver star accompanied by a guitar? The one that has him donning bunny ears, preparing a delicious egg sunny side up? Or one of the many, many months accompanied by shirtless photos? XOXO.