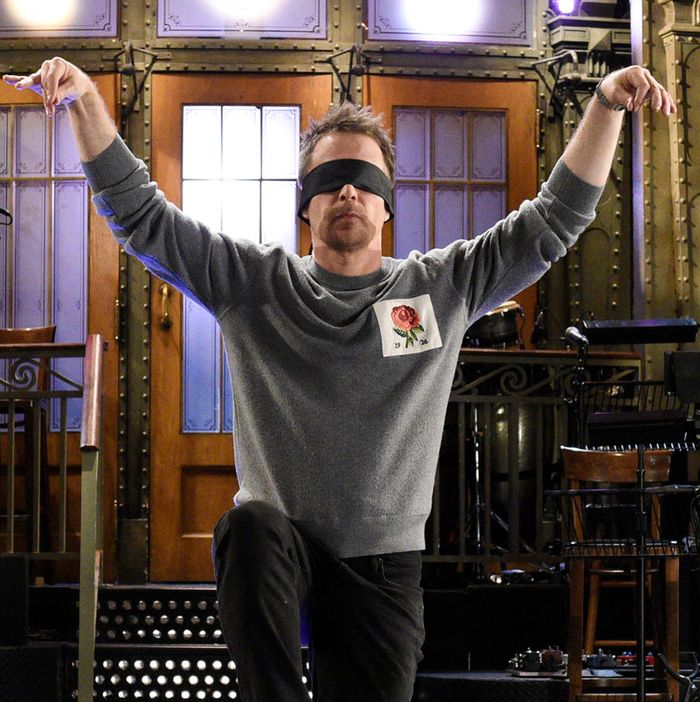 Photo: NBC/Rosalind O'Connor/NBC
Sam Rockwell has a way with weirdos. Just about every one of his roles — whether it's a quiet one like in Moon, or something bigger and broader like Chuck Barris in Confessions of a Dangerous Mind — is some kind of freakazoid on the edge. While his Golden Globe win for playing the racist cop in Martin McDonagh's Three Billboards Outside Ebbing Missouri was controversial, it goes to show that Rockwell has a knack for playing creeps. This is his first time hosting SNL, but his off-kilter sense of comic timing is noteworthy, and often earns him comparisons to fellow idiosyncratic oddball Christopher Walken. There's surely going to be a lot of sketches that feel like they could live in that 10-to-1 spot where the weirdest stuff often gets relegated.
Morning Joe Cold Open
With Trump's racist comments about Haiti and African nations dominating headlines this week, Mika Brzezinski (Kate McKinnon) and Joe Scarborough (Alex Moffat) are on edge. After repeatedly cutting off a poor GOP representative (Chris Redd), they invite journalist Michael Wolff (Fred Armisen) and Steve Bannon (Bill Murray) on to talk about Wolff's new book, Fire and Fury: Inside the Trump White House. Wolff defends his reporting against accusations of fraudulence ("You got the gist, so shut up"), but the big surprise is who shows up to play Bannon: Bill Murray! Bannon rags on Wolff a bit and talks about his next projects, a web series for Crackle, a fashion line, and skin care for guys. Additionally, Oprah (Leslie Jones) drops by to confirm she's more powerful than the president. The cast delivers some high energy here, as well as some sharp and funny lines in a scene that has a solid through-line. The reveal of Steve Bannon, stripped of his usual death cowl, is the best moment but the excitement of seeing Murray wears off quickly, as he seems a little disconnected in the scene.
Sam Rockwell Monologue
First, Rockwell talks about what it means when a character actor wins an award like the Golden Globe: He's finally able to graduate from actor to "big-ass deal." Because of this, Rockwell determines he's ready to become a leading man right there at 30 Rock. The monologue morphs into a big song-and-dance number with a refrain to inspire Rockwell's transformation. He then wanders the halls of the studio, punching ninjas in the crotch and getting accosted by Leslie Jones, before riding out on a camera-boom arm and starting the show flanked by a crew of dancers. The bits take a backseat to spectacle, but there's a lot of spectacle here.
Science Show
During this PBS kids' show, Mr. Science (Rockwell) prepares to teach a pair of kids (Cecily Strong and Mikey Day) a little something about states of matter in the universe. Unfortunately, the kids are as dumb as the table that represents "solids." They think the No. 1 rule of the show is "Don't touch me under my clothes," and when Mr. Science asks them to just "say what you see," they inevitably say, "What you see." Thankfully, the show goes to commercial before Mr. Science absolutely loses his shit. Though Rockwell commits to the part of beleaguered host, even going so far as to drop an F-bomb, the dull kids aren't engaging enough to make this worthwhile.
Tucci Gang
In this parody of former Soundcloud rapper Lil Pump's "Gucci Gang," Pump (Pete Davidson) spits a tribute to the one and only Stanley Tucci while Rockwell plays the Tooch himself. "Some of you don't know the name / But that's that guy from the Hunger Games," says Pump, before listing off an excessive amount of information about Tucci and his résumé. (He had a cookbook! He co-owned a restaurant!) The juxtaposition is meant to bring the laughs here, but for all its production value, it feels like little more than a long list of credits delivered to a beat.
Fashion Panel
The Look hosts Rockelle Koontz (Cecily Strong) and Dean Swizz (Rockwell) welcome panelists Angelo Dolphintuna (Kenan Thompson) and Silvia Nuñez (Melissa Villaseñor) to talk about fashion at the Golden Globes. Taking cues from Time's Up and the #MeToo movements, and worried about being called out on Twitter, the hosts can only talk about how "empowered" all of the women look. Rather than criticize those who make terrible fashion choices, they do a segment called "I Respect Her Choice." Then, Frances McDormand (McKinnon) comes on to represent "raw, powerful females." The whole sketch is savvy, and does a pretty good job of dissecting what must be weird territory for catty programs like those on E!
My Drunk Boyfriend
For all the ladies who miss human contact while their men are away, there's Drunk Boyfriend. It's a full-size doll, "150 pounds of dead weight" meant to simulate an inebriated paramour. Drunk Boyfriend says all kinds of things like, "I think I'm going to take piano lessons," and "Cops. I want to watch Cops." Eventually, he gets out of bed in the middle of the night and pees into your laundry hamper. The physical bits involving the lugging of awkward bodies are fun, and there are definitely fine details here, but there aren't many new observations.
Weekend Update
Colin Jost and Michael Che spend much of Update's first half talking about Trump's "shithole" comment, wondering how parents talk their kids out of cursing when the president gets to say anything he wants. Che has a dark but smart run here, confessing that he's said as much about "countries that don't have a CVS," and talks about the hypocrisy of an exploitative, Western nation denigrating the oft-colonized Africa: "That's like telling the kid you molested, 'Boy, you grew up to be weird.'" There's more talk about porn star Stormy Daniels receiving hush money from Trump's lawyer, and then Oprah (Jones) comes out with Stedman (Redd) to talk about the possibility she'll run for president in 2020. There's very little writing in this duologue, but Jones and Redd make the characters feel gleeful.
In the second half, Aidy Bryant emerges to talk about the fact that Mark Wahlberg got paid $1.5 million for his work on All the Money in the World reshoots, while co-star Michelle Williams made only a per diem of $80. Though Bryant believes women are ready to negotiate harder, she says men should be a little more accommodating and decent: "If I'm gonna be more like Mark Wahlberg, then maybe Mark Wahlberg can take a little trip inside my brain, which is just a tornado of, Are you okay? Is she okay? Here's $50." It's more politically pointed than outright funny, but Bryant is charming enough that it hardly matters. Later, Kenan Thompson comes on as Lavar Ball to talk about the benefits of his kids playing basketball in Lithuania: "Every night, the crowd of 61 people goes wild, cheering and waving wooden spoons in the air." The ever-emphatic Thompson is having a great time and it's infectious.
Captain Hook
These days, Captain Hook (Rockwell) has to think twice before allowing a quartet of captive Lost Boys (Davidson, Day, Luke Null, and Kyle Mooney) join his ship's crew. "In today's climate, does this look really bad?" he wants to know. None of the kids have doubts, but the more they open their mouths, the weirder it seems. When Hook asks them to imagine themselves in the future describing their experience, they say, "We hang around in dirty pajamas and party with older guys with earrings." Once Peter arrives to have a "special sword fight" with the captain, that's it — all the fearful adults abandon ship. The concept behind this sketch is more exciting than the execution, which basically amounts to some wire work and jokes about Bryan Singer and Michael Jackson.
ATM
This filmed piece follows a white couple (McKinnon and Rockwell) as they stop outside an ATM in a rough neighborhood. The white guy in leather doesn't want to use the ATM after a black guy in a hoodie (Thompson) follows him into the lobby. "I'm not a racist," says Leather. "It's late, you ran in here, I got a little rattled." After Leather gets his money, Hoodie threatens him — but it's only in fun. "Next time, don't freak out if a black man wants to use the ATM," says Hoodie. Then, a horde of aggressive dudes (led by Chris Redd) scare the crap out of Hoodie. As a real assault takes place, the white people are sitting in their car, talking about how you can't judge people by the way they look. It's not wildly funny, but it's clever and well-observed.
Marcus Comes to Dinner
When Tim (Moffat) brings home his beau Marcus (Redd) to meet the parents (Rockwell and Bryant), he fails to mention that Marcus is a porn star. Instantly, patriarch Richard recognizes Marcus, even if he can't quite place the young man. "You work out at Crunch?" Richard asks, after carefully watching Marcus grunt while opening a bottle of wine in his crotch. After a few exchanges, Richard stands up suddenly, says "You're a gay porn star!" and laments the fact he didn't wear a cuter shirt to meet Marco Pumpgood. Richard soon exits the house, saying, "Anyhoo, guess I'm getting a divorce now. And I'm probably stepping down as pastor." This sketch is the best of the night. It carefully teases out the details, makes room for Rockwell to deliver a great performance, and delivers a great twist.
Genetics Lab
As members of the Health Department tour the "Next Gene Lab innovation hub," they get curious about an odd experiment. Is that a golden retriever's head grafted onto a human's body? Indeed it is. When Dr. Goldman (Rockwell) emerges to explain the reason for the experiment, his only justification is, "Because we could." After a while, the scientists wonder whether it's time for the dog-head boy to wear shoes, and whether they ought to make a dog-head girl. There are a few fun jokes, including one about where the dog and body came from, but the real joy is watching the crew feed the dog sandwiches to keep it occupied while it's on camera.
Chantix Commercial
This commercial parody is for anyone who wonders about the people in product testimonials who definitely aren't actors. As Kelly (Strong) touts the anti-smoking drug Chantix, the voice-over informs us that Kelly is "not an actress." Kelly pipes up and says that she used to be one. Then Kelly tells us the drug is different, much like her take on Ophelia. Now that she's quit smoking, she has more energy for "workshopping characters for her one-woman show," and gives us her best rendition of her Nana. All the while, the voice-over chastises Kelly and tries to keep the aspiring actress on-track. The back-and-forth is fun, and it's a great character piece for Strong.
Between the lackluster parodies and dull premises, this is a middling week for SNL. Surprisingly, there isn't much weird stuff for Rockwell: He does the yeoman's work, but he doesn't get anything that's too off-the-rails. (Other than the F-bomb, of course.) The cold open and Update are both solid, and if anything, the show gets better in the second half. We'll see how SNL picks up the slack next week, when Jessica Chastain makes her hosting debut.