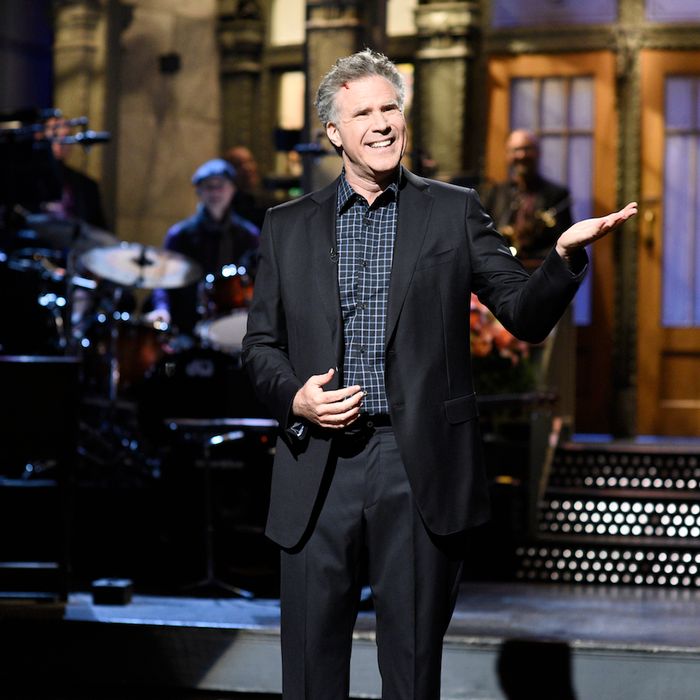 Will he do Harry Caray or James Lipton? Will he do the Spartan Cheerleaders with Cheri Oteri, the Hot Tub Luvvahs with Rachel Dratch, or Jeopardy! with Darrell Hammond as Sean Connery? Will George W. Bush taunt Donald Trump? Would there, could there, should there be more "More Cowbell"? Honestly, Will Ferrell has hosted SNL three times already, so it's probably best the writers just give him new material with which to go wild; his laser-focused sense of character, his manic physical energy, and his straight-faced commitment to every weirdo under the sun will carry the day. To whet fans' appetite for the show, NBC released not only Ferrell's original SNL audition tape but also the very funny, unaired "Old Prospector" sketch from late 2001. It's a titillating one-two punch that makes the profoundly ridiculous seem not like a foregone conclusion.
George W. Bush Returns Cold Open
It's a very, very George W. Bush open as Dubya (Ferrell) addresses his fellow Americans from an Oval Office–like set in the basement of his Texas home. The subject, of course, is his terrible tenure as president as compared to Trump's abysmal attempt. "I'm suddenly popular AF," Bush says. "And I want to remind you guys that I was really bad. Like, historically not good." He runs down his list of accomplishments, including a plummeting stock market, a press conference during which a reporter threw shoes at him, and two different wars. ("What has two thumbs and created ISIS? This guy.") He laments the Trump White House because, "Back in my day, we didn't let Russians rig our elections, we used the Supreme Court like Americans." Eventually, Condi Rice (Leslie Jones) shows up for movie night. Ferrell's Bush seems less Bush-y than ever, but there are some smart reminders for those watching who suddenly remember Bush's two terms as halcyon days.
Will Ferrell First-Time Monologue
"Oh wow," Ferrell exclaims, "I have dreamt of standing on this stage my whole life!" In fact, Ferrell got so excited about hosting SNL that he hit his head on a steel beam during the quick change and is now bleeding from the temple. Though he can't remember anything and feels very sleepy, the show must go on. Ferrell tries to sing "I Think I'm Gonna Like It Here" from Annie, but ends up sputtering gibberish and passing out in the crowd. When one random audience member admonishes him, "Dude, you need to go to the hospital," he curses her as "Lorne Michaels, the rudest man in show business!" While Cecily Strong and Kenan Thompson finally strap him to a stretcher, he announces that Nelly Furtado is performing. (She's not.) It's physical, silly, and everything necessary to set the tone of the show.
Fighter Pilots
Somewhere over the South China Sea, a squad leader (Mikey Day) prepares his fellow pilots to approach the Korean peninsula; a quick roll call reveals their call signs are Wild Card, Sidewinder, Viper, and Clown Penis. Weird though it may be, Clown Penis (Ferrell) has that nickname because he wants his enemies to feel "confused, unsettled and, most of all, very, very scared." This is not the only weird thing about ol' Clown Penis: He accidentally inverts his plane and winds up in space. The sketch spins away from its original setup, but it's much better than just dwelling on nicknames for four minutes.
The House
In this episode of The House Sonoma, bros Brian (Beck Bennett) and Brad (Ferrell) get ready for movie night on the couch. When housemate David (Kyle Mooney) arrives, he wants to go to see a movie in the theater. As the testimonials tell us, "This could get bumpy." The house bros try to figure out what to do when "the specials of the day are Drama, drama, and more drama." Ultimately, it's no big deal … until the doorbell rings and Brad opens the door to find his son on the other side! Mooney and Bennett have worked with this template before, toying with the idea that reality shows demand conflict where there is none. It's true and awkwardly funny, if a little dull.
Commercial Shoot
Two elderly regulars at Dickenson's Roadside Diner (Ferrell and McKinnon) sit in front of their pot pies, ready to deliver testimonials for a local commercial. The man is meant to say the phrase, "baked in a crispy pastry crust," but can only manage things like "buttery buddy bust" and "flaky bakey bacon." Despite her seeming aptitude, his wife doesn't fare much better. "We raised five boys and some girls," the old man says at one point, "Why can't we say the line?" No simplifications or retakes are going to fix it, though it seems fair to imagine the director won't be able to use the phrase "Yahtzee ISIS queef." McKinnon and Ferrell don't push each other's buttons in the sketch much, but they make for great old farts and do their best to sell the simple-but-impossible task.
Flight Attendants
On this flight from Lubbock to Charleston, a crew including Spencer (Chris Redd), Sabrina (Aidy Bryant), and Gareth (Ferrell) like to do things a little differently. More specifically, they like to rap their safety announcements. While a random passenger (Luke Null) lays down a beat, Spencer and Sabrina take turns talking about seatbelts and oxygen masks; when it's Gareth's turn, he turns his attentions toward the godless realm beyond. He's been listening to some podcasts and reading 1984, so he knows that religion is a delusion that shields us from impermanence. The gags will not translate to print in the least, so watch it. It's surprising, witty, dark, and really funny. Null gets good marks just for the timing on his beat-box bit.
Next: For Men
This deodorant ad is not just for men who sweat, but men who are sweating specifically because the #TimesUp movement is catching up to them. Whether one is an corporate bigwig (Ferrell), a stand-up comic (Mooney), or an actor (Moffat), protection in times of tribulation is necessary. "Lots of women are brave, but this one is a liar," the actor tells a reporter before sniffing his pits. He may be in hot water, but he's still dry. This commercial parody is what you might imagine: clever, searing, and a little uncomfortable.
Weekend Update
In Update's first half, Michael Che and Colin Jost consider the government shutdown, immigration issues, and Trump's potential obstruction of justice. A fun, unexpected joke finds Che frustrated to agree with Trump from time to time due to Che's own "black paranoia": "Just when I think he's insane, he'll say something that makes perfect sense, like, "The media is lying. The FBI is trying to do me like they did Tupac." And I'm like, They did kill Tupac, didn't they?" Then Ferrell comes out as Jacob Silj, the man with "voice immodulation syndrome." That is, the guy who talks in a loud, painful monotone. "V.I.S. has been diagnosed in over zero people," he assures Jost. This is a recurring character, and it's always impressive to note Ferrell makes the material sing even if it's just a cue card with the stage direction, Talk loudly.
The second half has some jokes about animals: baboons escaping the Paris Zoo, camels disqualified from beauty pageants, plus Greyhound buses, and the Eagles in the Super Bowl. Heidi Gardner wheels on as Bailey Gismert, the millennial vlogger of Bailey at the Movies. She's coy, sensitive, and entirely inarticulate. (Her review of The Shape of Water: "It was like, I don't know, it's like weird.") When Che teases her about possibly liking Armie Hammer, she nearly jabs her fingers in her eyes to keep from crying. Then it all comes out: She's stressed about the school play and had mono for a year. It's another excellent Update character from Gardner, whose strong perspective and way with behavioral tics elevate the text.
Reality Stars
A quartet of barbequers await old friends Robin (Strong) and Dane (Ferrell), a couple who have been recently featured on the reality show Kings and Queens of Santa Clarita. As the crew wonders if their friends have been changed by fame, Robin and Dane show up in garish outfits, spray-tanned, with faces pinched by cheap surgeries. "So nice to be back in Flagstaff with my normies," Robin cries before encouraging everyone to appear on camera. Once cameras are rolling, Robin and Dane stir up trouble, throwing a grill full of meat at their friends and threatening to hit someone with a dog. Costume, makeup and hair all win big points as Ferrell and Strong's onslaught of aggressive sass catches the entire cast giggling.
Dinner Discussion
A playful dinner conversation between three couples goes south when they stop talking dogs and start talking Aziz Ansari. The recent accusations against Ansari and the subsequent editorials about dating and assault make for very thin ice. Anyone at the table who starts a sentence, in any way, is cautioned by everyone else: "Careful!" "Nope!" When anyone actually completes a sentence — like, "She could have just left" — all hell breaks loose. The diners dunk their faces into plates of spaghetti, stab their own hands, or make themselves disappear using a little black magic. This is a really salient point made in a sketch that's really hard to pull off: The comedy comes from false starts, interruptions, and things unsaid. Well, that and some fun, over-the-top visual gags.
Office Breakroom
While gathered around the break table at the office, one guy (Ferrell) recounts the time he took a road trip and ate at Crate and Barrel. Did he mean Cracker Barrel? his co-workers want to know. Yep, indeed he did. He's not from the South, he made a mistake, so can they let it go? They're entirely prepared to move on, but the guy believes they're being superior and "awful." Soon he's accusing his cohorts of bringing prostitutes to the Christmas party ("That was my daughter") and not using condoms, just so they get a taste of what he's feeling. Then the guy quits ("This is your company. You're our boss!") and takes all of his pens with him. No, the sketch doesn't get Ferrell quite to "Get off the shed" levels of fury, but it's enjoyably odd and ends on a great note.
Chucky Lee Byrd
This longform commercial introduces the music of '50s pop icon Chucky Lee Byrd, the Poet of Teen Love. In his classic "Beauty Queen," his lady is "only 17." In "Candy Baby," Byrd contemplates what to get his girl for her Sweet 16, and in "Farmer Girl," he is hated by the farmer because the girl is only 14. Things only get more disturbing from there, much to the chagrin of the pitchwoman (McKinnon) ostensibly there to sell some records. "Doesn't he seem pretty old?" she wonders aloud. The pitchman (Bennett) isn't worried because it was a different time back then. Still, can anyone justify a song called "One and One Equals Eleven"? This is a smartly observed little nugget about something both creepy and ubiquitous in old pop music, and Ferrell makes for a fine creep.
From the cold open to his appearance in Update, this episode keeps Ferrell on his toes — and unsurprisingly, Ferrell delivers everywhere he turns up. The sketches also vary in style and tone, addressing everything from tricky social issues to, well, a fighter pilot named Clown Penis. There's playfully dark stuff and plenty of character pieces of Ferrell, too. Yeah, there are two bits about reality TV that tread some of the same ground, but when one mines the artificial constructs of the genre and one lets Ferrell hurl meat at his castmates, it's safe to say they're different enough. Will we have to wait another four or five years before Ferrell earns his Five-Timer Club's jacket? Hard to say, but what we do know is Natalie Portman is set to host next week.