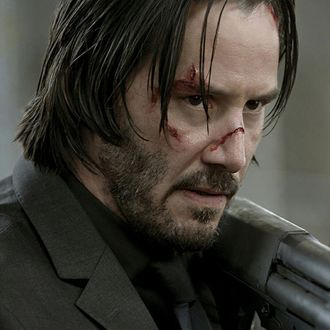 When they tell you there's no turndown service.
Photo: Summit Entertainment
A John Wick TV show is coming to Starz, and it hopefully won't involve more dead puppies. Instead, the creative team behind the Keanu Reeves action series — including directors Chad Stahelski and David Leitch, writer Derek Kolstad, and Reeves himself — is working with new writer and showrunner Chris Collins (Sons of Anarchy) on a series about the mysterious Continental Hotel, where all the hired assassins like to stay. "Collins expands the universe in the series by focusing on the Continental Hotel and those who find refuge under its roof," Starz said in a statement. "Set in a hyper-real version of Los Angeles, the series maintains the urgency of the action along with the dry humor from the John Wick movies." Sounds like there'll be no Keanu Reeves for now, but perhaps the hotel offers a good breakfast spread, it is Continental after all.