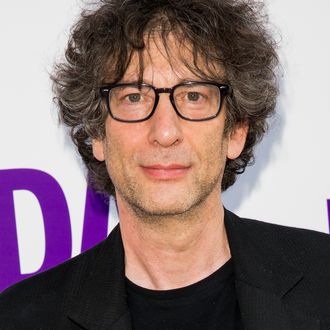 Photo: Tristan Fewings/Getty Images
At Starz's Television Critics Association panel today, CEO Chris Albrecht announced that Neil Gaiman, American Gods author, would step in as showrunner of the network's TV adaptation following the departures of Bryan Fuller and Michael Green. "Neil Gaiman will be moving into a more traditional showrunner function," Albrecht said at the event, according to /Film. "We're looking for a partner for him to ensure the television part of this gets the appropriate attention." Gaiman, however, refuted that announcement on Twitter, saying he already has a showrunning commitment and won't be taking on another.
Regarding Fuller and Green, who were reported to have left the series due to creative differences with the production company Freemantle, Albrecht said the two men would be "involved as much as they can be" with the show going forward, and that, "they were not fired, nor did they quit." Of the friction between the former showrunners and Freemantle, Albrecht added, "There's a very good relationship between Freemantle and Michael and Bryan. Everyone is trying to work this out and have this be a win-win for the people involved and the show itself." A few hours after that quote started making the rounds, Green posted a vague tweet about possible misinformation online.
If this has you hoping that Gillian Anderson's announced departure from American Gods is also up in the air, sorry. Both Anderson and Albrecht agree that she is not coming back.
Update: A representative for Starz told Vulture that while the network hopes Gaiman will play a larger role in the second season of Gods, Freemantle is searching for a new person to take over the specific role of showrunner "to partner with Neil — as he was a partner to Bryan and Michael."