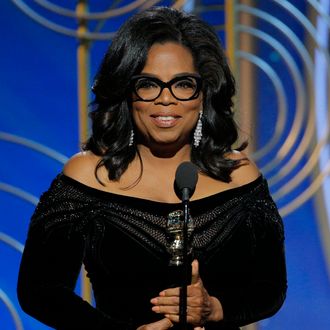 Oprah Winfrey.
Photo: Handout/NBCUniversal via Getty Images
There were many calls by celebrities and normals alike for Oprah to run for president after she delivered a stirring, powerful speech while accepting her Cecil B. DeMille Award at the Golden Globe ceremony. When the Los Angeles Times asked her longtime partner Stedman Graham about whether or not she would actually run for high office, he did not laugh off or dismiss the question.
"It's up to the people," Graham said before adding, "She would absolutely do it." That is, um, definitely not a, "We'll see!" or "She certainly did give a great speech!" or an "Oprah is focused right now on raising the voices of women in entertainment and girls all over the world…" That is a "If you vote for her, she will come." Her best friend Gayle King was more measured in her response, but did confirm that one never becomes immune from quaking when you hear Oprah give a speech, even if you get to hear her talk all the time. She told the Times, "I thought that speech was incredible. I got goosebumps." And now you have something in common with Gayle King.