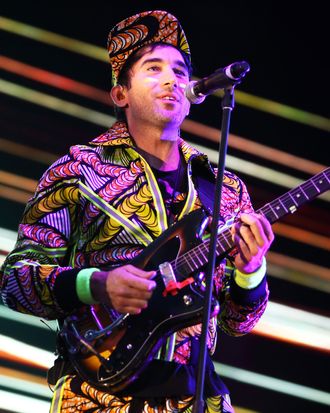 Photo: Burak Cingi/Redferns
Sufjan Stevens has now seen Call Me by Your Name four times, but the very first time he went to watch it, he was dreading the experience. It was a little over a year ago when director Luca Guadagnino invited the singer-songwriter to northern Italy to watch an early edit of the acclaimed romance, which memorably uses three songs sung by Stevens, two of which — "Mystery of Love" and "Visions of Gideon" — he wrote expressly for the film.
Stevens arrived at Guadagnino's apartment unsure of what to expect: He had never met the director, who by then was working on a remake of Suspiria with Dakota Johnson, in person. Stevens felt intimidated enough already, "and then Luca and Dakota showed up in head-to-toe Gucci, because they had just come from the show in Milan," Stevens recently recalled to Vulture with a laugh. Guadagnino had set up a screening room in the apartment, so after the three of them finally got to know each other, they sat down to watch Call Me by Your Name. "And I was so stressed out the entire time," said Stevens. "I was super nervous."
That Stevens even got involved with the film, and now may be nominated for a Best Original Song Oscar for his efforts, was hardly assured when Guadagnino first extended an offer to collaborate in 2015. At that point, Stevens was in the middle of a long tour for his album Carrie and Lowell, an acclaimed effort full of the personal, sensitive ballads that have become his trademark. "I kind of played hard to get at the beginning because I was I was really intent on putting all my energy into the tour," said Stevens. He was also wary of Hollywood, having turned down several previous offers from directors to write songs for their films.
"I have to say, I don't usually like directors, and I find them really controlling," said Stevens. "I think all great directors are megalomaniacs." Then again, Stevens himself is a self-confessed "control freak," and to offer up his songs to another artist would involve ceding control as to how they were used. "I've pretty much been producing my own music for the last 15 to 20 years, I have my own label with total creative control, and when I tour, I'm basically directing the imagery and the lights and arrangements," he said, explaining his reticence. "It's very satisfying for me to be in charge and account for every last detail of my work, so to venture into this world of cinema where I'm contributing something I have no control over, I did feel a little powerless, in a way."
But Guadagnino was persistent and persuasive, and Stevens was drawn to Call Me by Your Name's story of young Elio (Timothée Chalamet), who falls for grad student Oliver (Armie Hammer) during one memorable summer in Italy. "I had so much respect for Luca as an artist, having seen his other films, and I knew he was a master," said Stevens, though after reading both James Ivory's screenplay and the André Aciman book the film is based on, Stevens had a few stipulations. Guadagnino originally wanted the 42-year-old singer to not only write original music for the film but to appear onscreen for a mid-movie performance — "almost like a break in the narrative, an aesthetic interruption" — as well as read voice-over passages from an older Elio, which were inspired by the first-person perspective from Aciman's book. Stevens felt neither device was necessary since the story and Guadagnino's filmmaking style were immersive enough on their own, so after the director agreed to remove the narration and onscreen performance, Stevens got to work.
"Luca's a real sensualist, and I very quickly keyed into that because I am, as well," said Stevens, who tried to write towards that overlap in their sensibilities with his songs. "There's a physicality to his work that's really profound, and there's an emotional experience that's occurring as well, and they have this divine interaction. So that's really what I was working on, this idea of first love being really irrational and sensational, and feeling boundless in its experience."
Stevens penned both songs quickly, demoing "Visions of Gideon" on his iPhone during one morning he had off from the tour, then finishing it with a producer that afternoon. He knows that both songs fall firmly within his wheelhouse. "I could write these songs in my sleep," he admitted. "I've been writing about love and loss since I was a small child!" Still, there was something mysterious about how easily both songs came to him. "I firmly believe in the power of impulse and instinct, and the ideology of 'first thought, best thought,'" said Stevens. "I have to admit that often when I'm writing music, I'm sort of at a loss for how it all transpires. It feels so immediate and impulsive that I feel like I'm almost not in control. I'm not writing in a state of ecstasy, per se, but I feel almost powerless to the creative motion."
So how did Stevens react when he finally watched Call Me by Your Name and saw both songs, plus a remix of his older song "Futile Devices," integrated into Guadagnino's vision? "I remember feeling kind of vulnerable but also really proud, and honored to be part of something so beautiful," he said. "Luca allows the music to rise to the surface and become a vital element. Scoring and putting songs in films is often reckless and distracting and manipulative, so it's a real testament to his craft, because I think most directors don't have this agility when it comes to music." Stevens was most impressed by the film's last few minutes, filmed in a sustained long take of Chalamet's face as "Visions of Gideon" plays and Elio processes the emotional aftermath of the affair. "God, that final scene devastated me," he said. "His whole performance is so real and true and profound. The nuances, the features of his face and how they change from scene to scene is incredible. I still don't know how he did that."
After the film ended that first time, Guadagnino turned to Stevens for his reaction. It was a moment fraught with expectation and emotion and Stevens decided, impulsively, to take advantage of it. "I asked him if I could have his Gucci coat, and Luca literally gave me the coat off his back," Stevens said.
He feels no regrets over making such a big request of Guadagnino, either. "Well, now he's sponsored by Prada," Stevens said, then laughed.