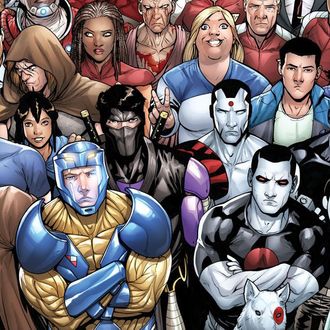 The heroes of the Valiant universe.
Photo: Valiant Entertainment
The entertainment world continues to be convinced that it can replicate the success of the Marvel Cinematic Universe, and a new player has emerged in the race for spandex-clad success: Dan Mintz. He's the CEO of DMG Entertainment, a production and distribution company that has worked on films such as Iron Man 3, Looper, the Point Break remake, and last year's Father Figures. DMG also had a 57 percent stake in superhero-comics publisher Valiant, an upstart that has put multiple film and television adaptations into development. But 57 percent wasn't enough — as The Hollywood Reporter revealed today, DMG has purchased Valiant outright. In doing so, it has obtained the third-largest universe of superhero characters, after Marvel's and DC's.
Valiant has had a bit of an odd history: It was originally founded in the late 1980s by an ousted editor-in-chief of Marvel Comics, experienced a brief boom in the early '90s, collapsed, was purchased by a video-game company around the turn of the millennium, collapsed again, was purchased by two fans who'd grown up on the original comics, and relaunched by them in its current form in 2012. Since then, Valiant has never been a heavyweight in the comics industry, but it's won acclaim for series like Ninjak, The Death-Defying Dr. Mirage, X-O Manowar, Quantum and Woody, and the Eric Heisserer–penned Secret Weapons. They also managed to put a handful of their characters into the Hollywood hopper, with Vin Diesel attached to a movie about supersoldier Bloodshot, and Dave Bautista attached to one about the eternal warrior known as the Eternal Warrior. The Russo Brothers were also reportedly producing a TV version of Quantum and Woody.
Mintz and DMG will now take the helm of all of these projects in print and film. It appears that the transition to the new ownership may have been rocky: Valiant CEO Dinesh Shamdasani is, per THR, "transitioning out of the company," and was notably not quoted in the piece. There are two questions now: whether DMG can get the film and television projects out of stall mode, and whether Mintz will be an effective head of a comics company. If Shamdasani is out, others in senior positions may follow him, and Mintz has no experience running a comics publisher. It's a deeply idiosyncratic industry, and there are already too many projects out there that are cynical ploys to generate and hold onto intellectual-property trademarks. If Mintz wants to generate quality superhero fiction, here's hoping he's done his homework.