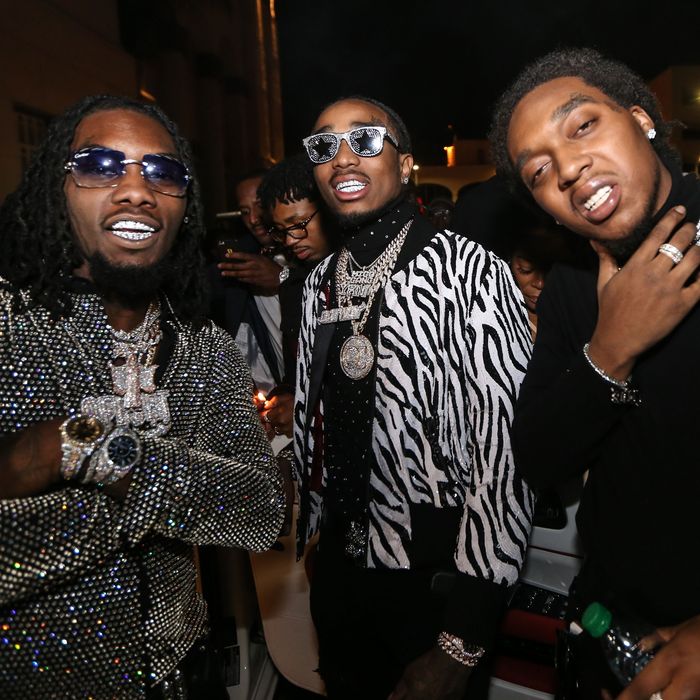 Photo: Thaddaeus McAdams/Getty Images
With the days counting down to the Friday release of their third studio album, Culture II, the Migos look set to advance further than ever into mainstream visibility. Released three months ago, Culture II's lead single "MotorSport," juiced with verses from Nicki Minaj and Offset's fiancée Cardi B, has been firmly ensconced in the top ten for many weeks; its recent successors, the Chinese-themed and Pharrell-produced "Stir Fry" and this week's nimble, glowing "Supastars," are likely to soar on the charts as well. Already established as fashion icons and pugnacious interviewees, two Migos branched out into solo collaborations in the past year, Quavo partnering with Travis Scott on Huncho Jack, Jack Huncho after Offset joined forces with 21 Savage and Metro Boomin for Without Warning.
Having first branded themselves as enthusiasts of gaudy postures, triplet flows, and ultrarepetitious hooks in early mixtape hits like "Versace" and "Hannah Montana" and leveling up on last year's "Bad and Boujee" vehicle Culture, it's clear that the North Atlanta trio of Quavo, Offset, and Takeoff is riding high and aiming even higher. But with great prominence comes great confusion: Though many seasoned listeners of the Migos may find it easier to distinguish the voices of the three from each other's, newer fans are very likely to assume that the appeal of the Migos lies in their being identical, instead of the care with which they establish subtle distinctions and complementary variety between them. It's with this in mind that we've composed a brief guide on how to tell the Migos' voices apart that doubles as an explanation for their effectiveness as a collective.
Takeoff is the key.
Takeoff's not the most obvious member, but he is the most self-sufficient. Even when Offset and Quavo work without him, they need someone very much like him in order to do well. Without Warning was superior to Huncho Jack, Jack Huncho because 21 Savage's flat, dry, hard delivery was an ideal balance for Offset's flashier style, while Travis Scott's predilection for style over substance matched Quavo's own so much that no productive contrast could emerge. In short, it's impossible to truly appreciate Migos without first recognizing Takeoff on the mic.
Quavo does more by doing less; Offset does more by doing more.
Given their shared dialect, similar material, and common interest in Auto-Tuned flows that further blur the difference between their voices, it's no surprise that telling Quavo and Offset apart on wax can be a tricky affair. If they also shared the same pacing and intensity, it would be all but impossible, but thankfully the two older Migos diverge in those regards. Especially more recently, Quavo prefers a more relaxed approach to his lyrics, leveraging his confidence and charisma into aesthetic value while leaning away from commitment; it's the sort of effortless affect available only to someone who's too cool to care and knows it all too well.
Offset, meanwhile, sing-raps like he still has something to prove to the world; though he operates under the narcotizing veil of Auto-Tune, he rarely sounds tranquilized. His brief excursions into double-time flows and other syllable compression are the hallmark of an artist always willing, in swag-related matters, to sacrifice uniformity in favor of extra content. Halfway between Takeoff's driven, concrete tone and Quavo's liquid poise, Offset's concentrated patter became increasingly pivotal in the group dynamic in 2017, gaining in precision as the year progressed. All the same, it's very hard to distinguish it from Quavo's own on the occasions when Quavo flares up. To be sure, Offset's voice is a little thinner and a little quicker than Quavo's, but the difference is ultimately minor: on a track like "Bad and Boujee" it's close to nonexistent: Only Offset's self-titled ad lib and Quavo dubbing himself "Quavo Ratatouille" enable the listener to know who's who in their respective verses.
For whatever reason, Quavo, originally the most developed artist of the three, has allowed his group mates to catch up to him; more than anything else, Culture II will demonstrate whether a higher, more even distribution of skill opens the door for new contrasts and echoes. All the same, given the Migos' history of reinvention, it's probably not so much a question of whether they'll innovate as how.