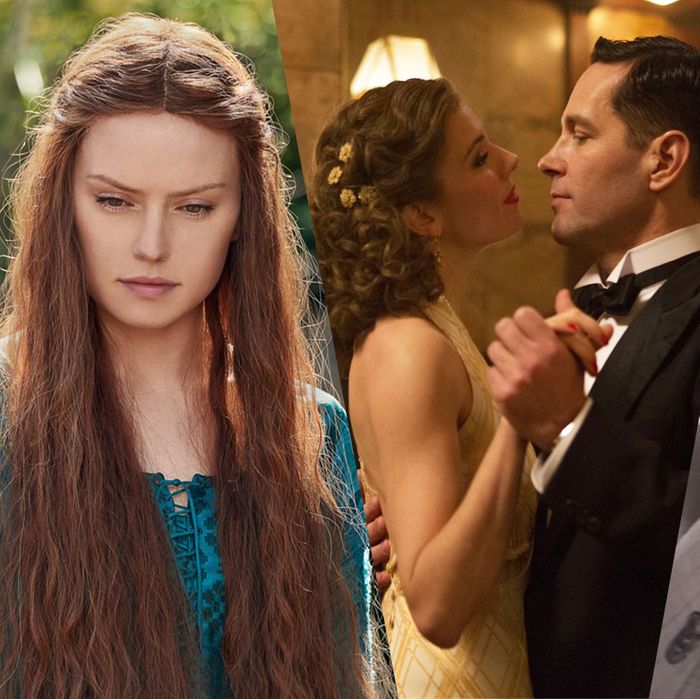 Photo: Courtesy of Sundance Institute.
Starting Thursday, Vulture will be reporting from Sundance, bringing you all the latest buzz on the most exciting films coming out of Robert Redford's annual festival. Here are just 20 of the movies among Sundance's most anticipated, including a Rooney Mara–Joaquin Phoenix rom-dram, Bo Burnham's directing debut, a Paul Dano and Zoe Kazan collaboration, and an Elle Fanning sci-fi.
I Think We're Alone Now
Cinematographer Reed Morano has had a buzzy year after her breakout directorial work on Hulu's The Handmaid's Tale, and she's poised to make even more of a mark this year with her second feature film. The post-apocalyptic drama stars unlikely duo Peter Dinklage and Elle Fanning as two of the lone survivors of a mysterious mass extinction. After an extremely busy year for Fanning, it will be interesting to see what she brings to the character-driven sci-fi tale.
Don't Worry, He Won't Get Far on Foot
Are you ready for the year of acting power couple Rooney Mara and Joaquin Phoenix? You'd better get that way. Their turn as Biblical power couple Jesus and Mary Magdalene comes in March, but before that we get the Sundance premiere of Gus Van Sant's story of the addiction and recovery of Portland cartoonist John Callahan. Phoenix plays Callahan, who joins an AA group after a drunk-driving accident leaves him wheelchair-bound, and Mara plays the woman who falls in love with him despite his flaws. Jonah Hill and Jack Black also star in the dramatic comedy.
Beirut
We've been waiting for a definitive big-screen performance from Jon Hamm ever since the end of Mad Men, and this thriller directed by Brad Anderson could be just the thing. In Beirut, Hamm plays a U.S. diplomat who loses his wife during an attack in the titular city in the early '70s, and is called back to it years later to take on a mission that, and we quote, "only he can accomplish." It's not exactly stereotypical Sundance fare, but Gilroy's white-knuckle chase sequences might be perfect counterprogramming to the festival's quieter selections.
Sorry to Bother You
There might be bigger movies premiering at this year's Sundance, but few have our attention quite like the feature debut of musician Boots Riley. Boasting a cast that features Lakeith Stanfield, Danny Glover, Steven Yeun (!), Tessa Thompson (!!), Armie Hammer (!!!), and Terry Freaking Crews, Riley's satire takes place in an "alternate present-day version of Oakland," in which Stanfield's character is a lowly telemarketer who suddenly finds himself rising through the corporate ranks, much to the dismay of his radical artist girlfriend (Thompson). Riley himself and Tune-Yards' Merrill Garbus supply the soundtrack. We require no telemarketing; we're sold.
Damsel
A good rule of thumb these days is to follow Robert Pattinson wherever he goes in this constantly surprising and rewarding era of his career. His latest collaboration is with directors David and Nathan Zellner, who last made a splash at Sundance in 2014 with Kumiko, the Treasure Hunter, and who are back with what sounds like an intensely silly Old West comedy. Pattinson stars as a bachelor searching for true love, Mia Wasikowska co-stars as his potential love interest. The official summary for Damsel includes the words "bonkers" and "tiny horse," all of which bodes very well.
Eighth Grade
Coming-of-age tales are notoriously a dime a dozen at Sundance, but few have addressed the highs and lows of coming of age with social media the way Bo Burnham's directorial debut promises to. The comedian and YouTuber also wrote the film, which features newcomer Elsie Fisher as an insecure tween in the titular grade, who desperately wants to forge a new, more confident identity for herself via her fledgling YouTube channel. Eighth Grade will either make those of us who never had social media as teenagers incredibly relieved, or reveal how much middle school sucks no matter what gadget is in your pocket — or both.
Wildlife
Paul Dano makes his directorial debut with this family drama, which he also co-wrote with actress Zoe Kazan. Carrie Mulligan and Jake Gyllenhaal star as a mother and father to a teenage son, Joe (Ed Oxenbould). When a wildfire breaks out near their home, the father abruptly decides his calling is to fight it, leaving his family to fend for themselves indefinitely. Mulligan and Gyllenhaal are formidable leads, and the film could be a breakout for Oxenbould (last seen in M. Night Shyamalan's The Visit) as a son who must step up in his father's absence.
Colette
Still Alice director Wash Westmoreland teams up with Keira Knightley for the story of the lauded French novelist, a precocious teen turned bohemian luminary. Knightley stars as the titular author, whose provocative debut novel causes a stir but whose older husband takes all the credit. In a Sundance year in which a huge and diverse array of female filmmakers is one of the biggest stories, this turn-of-the-century tale of a woman defining herself as an artist could strike a chord.
The Tale
The Laura Dern-aissance is in full effect, and her latest sounds like a gut-wrencher. Documentarian and producer Jennifer Fox wrote and directed this film based on her own experience uncovering memories of an inappropriate relationship she had as a teenager that she had repressed. As the film flashes backward and forward in time, Jennifer (Dern) encounters her younger self and comes to understand the nature of "the stories we tell ourselves in order to survive." Ellen Burstyn, Elizabeth Debicki, and Common also star.
Leave No Trace
Hell, yes, it's a new narrative film from director Debra Granik, who directed Best Picture nominee Winter's Bone back in 2010 and essentially launched Jennifer Lawrence's A-list career. This one is an intimate father-daughter drama about a war veteran (Ben Foster) who can't integrate back into society, and attempts to live off the land in a national park. His teenage daughter reveres him and will follow him almost anywhere, but what happens when she grows up and outgrows the life he's decided on for both of them? Leave No Trace is absorbing, intimate, and guaranteed to leave you weeping.
The Kindergarten Teacher
Based on an Israeli film, this sly remake stars Maggie Gyllenhaal as a frustrated teacher who becomes obsessed with a young student's knack for seemingly off-the-cuff poetry. At first, you'll think this is going to be a fairly typical Sundance film with inspirational instructors and poignant life lessons about not taking our most special children for granted. Reader, it's so not that movie. This one is a wild ride that will have viewers screaming as Gyllenhaal's character makes increasingly bold choices and trades our sympathy for fascination.
The Happy Prince
Rupert Everett directs and stars in this biopic of Oscar Wilde near the end of his life, as controversy, exile, and excess drive him to the brink. Can he bounce back from two years of unfair imprisonment and become the witty playwright he once was, or will he fall into self-destructive patterns and back into the arms of Bosie Douglas (Colin Morgan), whose dangerous temperament kicked off this downturn to begin with?
Yardie
Among the actors making their directorial debuts at Sundance this year is Idris Elba, who helmed this thriller about a young Jamaican man who pursues revenge against the man who killed his brother. The film stars Maze Runner actor Aml Ameen, but don't worry, Elba himself took a supporting role, too.
Lizzie
The legend of Lizzie Borden is already plenty eyebrow-raising, what with the ax murders and all, but this interpretation casts Chloë Sevigny as the murderess and adds a same-sex affair with Kristen Stewart to the mix. All right, we'll take a whack at this.
Burden
After co-starring in last year's Sundance standout Mudbound, Garrett Hedlund tackles even trickier racial themes with Burden, where he plays a Ku Klux Klansman who leaves his past behind for love and eventually falls in with an African-American reverend. It's based on true events.
Ophelia
What can Daisy Ridley accomplish when she trades her lightsaber and sensible Jedi wraps for Shakespearean stories and corsets? We'll find out when she takes the title role in this retelling of Hamlet from his love interest's perspective, also starring Naomi Watts as Gertrude, Clive Owen as Claudius, and George MacKay as the gloomy prince of Denmark.
A Kid Like Jake
Comedian and actor Silas Howard had a memorable recurring run on the first season of Transparent, and now he steps behind the camera to direct this drama about two parents (Claire Danes and Jim Parsons) who are navigating their young child's unique gender expression.
The Catcher Was a Spy
Well, here's a logline you don't often get at Sundance: Paul Rudd stars in this true story as baseball player Moe Berg, who led a double life as a spy during World War II. The film is directed by Ben Lewin, who scored here a few years back with the winningly sweet sex drama The Sessions.
Private Life
It's been 11 years since the last Tamara Jenkins directorial effort, the Oscar-nominated dramedy The Savages. Finally, we're getting a new film from this vital voice, starring Kathryn Hahn and Paul Giamatti as a couple whose failed fertility treatments are beginning to wear on them until their step-niece arrives and gives them a brand-new option.
Skate Kitchen
After tackling a cloistered group of brothers in her acclaimed documentary The Wolfpack, director Crystal Moselle makes the leap to narrative filmmaking, though she's still training her camera on a fascinating group of young people. This time, the pack is a bunch of teenage girls who meet every day to skate, shoot the shit, and navigate increasingly complicated relationships with boys and each other. These characters have style to spare, and might be the coolest people you could hope to catch on a Sundance screen this year.