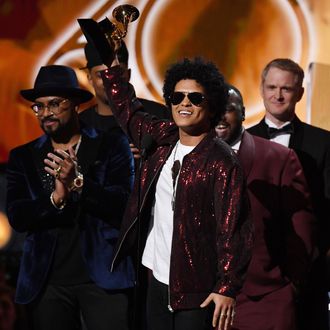 Photo: Timothy A. Clary/AFP/Getty Images
Roughly 20 million viewers watched the 60th Grammy Awards on CBS Sunday, a 23 percent decline from a year ago and the smallest audience since 2009 for the recording industry's annual kudos. While ratings for linear TV broadcasts are falling across the board these days, Grammy's Nielsen numbers had been relatively stable in recent years: Until last night, the show had pulled in at least 25 million viewers every year this decade. So what changed this year?
It probably didn't help that the show kicked off earlier than ever (7:30 p.m. on the East Coast and 4:30 p.m. out West), possibly confusing audiences used to an 8 p.m. start time. Unlike recent years, there also was no star-studded big tribute to a deceased artist (Prince last year; David Bowie and Eagles' Glenn Frey in 2016). What's more, this year's telecast was the first since 2011 to not feature a performance from (or even an appearance by) either Beyoncé, Adele, or Taylor Swift. It's hard to draw too many conclusions from one year of numbers. Perhaps producers screwed up with too much U2 and not enough Lorde (or female solo performers in general). Or maybe Bey, Adele, and T-Swift had been forestalling the inevitable — and Nielsen gravity has finally caught up to the Grammys. The good news for CBS: Even with the big decline, the Grammys still pulled in the biggest same-day audience for a prime-time entertainment broadcast since last year's Oscars.