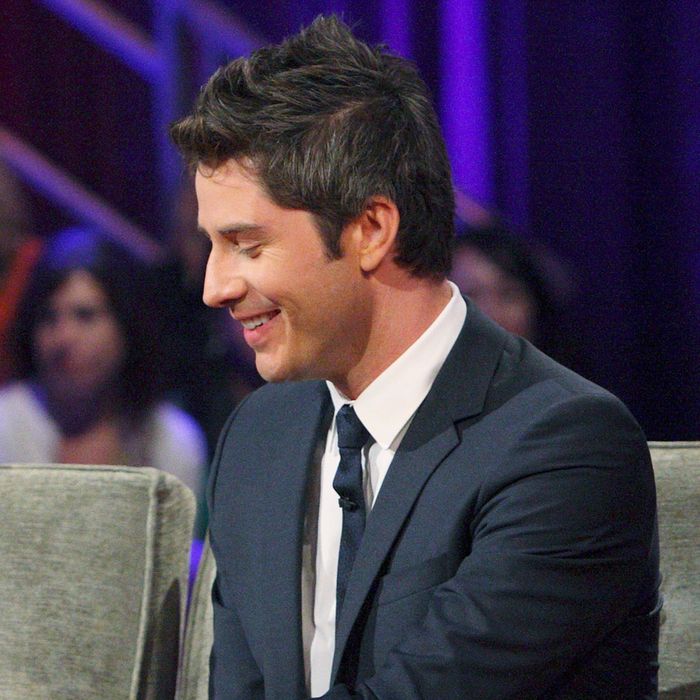 Photo: Rick Rowell/ABC via Getty Images
On Monday night, a man who is not named Peter Kraus made his debut as the Bachelor. But 36-year-old Arie Luyendyk Jr. is no stranger to the franchise: America's first salt-and-pepper Bachelor almost won then-Bachelorette Emily Maynard's heart in 2012.
Still, five years is a long time. And Arie — a race-car driver and real-estate broker who was born in the Netherlands and raised in Scottsdale, Arizona — is about as forgettable as the 47 blonde women named Lauren currently vying for his love on television. To jog our memories, we revisited season eight of The Bachelorette to learn all we could about the latest hunky Frankenstein's monster that Chris Harrison personally brought to life in his mansion's basement laboratory. Here's what we found out.
Week 1: Arie makes his first impression
Arie's intro package finds him zooming around the Phoenix International Raceway. In a season with its fare share of goofy limo arrivals — one guy shows up in costume as an old woman, another flies to the house in a helicopter, and a "Party MC" named Stevie dances up to Emily with a boom box — Arie is straightforward and mercifully stunt-free, offering the Bachelorette a handshake that turns into a warm hug. Soon after, I cringe when a man with a tiny face-to-hair-height ratio skateboards his way to the front door. This proves to be Jef, CEO of a bottled water company, and the eventual winner of this season. Love is strange.
Arie knows Emily's late fiancé (and the father of her daughter, Ricki) was a NASCAR driver — in fact, he died on the way to a race. (To be clear, it was a plane crash, not a car crash, but whatever. Still sad!) He's "nervous" his profession might bring back bad memories. But of course, this is fine with her. If anything, it's a big plus. Emily is clearly drawn to Arie, but neither he nor Jef snag the first-impression rose: That goes to Doug, a single parent himself.
Week 2: Arie does nothing
Not a whole lot of Arie in this episode. There is a group date that involves the Muppets, but he doesn't get to go. We do learn that he travels a lot in the summer, although, good news, Scottsdale winters are nice.
Week 3: Arie loves race cars
Arie finally gets his first one-on-one date, and it's spectacular. The couple flies to Dollywood, Emily's personal "happiest place on Earth." After midway games and a white-knuckled roller-coaster ride, who should appear but Dolly Parton herself? A bedazzled vision in white, she has written a song just for them: "Just take it slow and let it grow / True love will find a way." Emily freaks out over meeting her idol; Arie doesn't seem to care, perhaps the biggest red flag about him that will arise all season.
Over Champagne and a romantic amusement-park dinner, Arie reveals that he seriously dated a single mother of two children. They broke up one year ago. She didn't want to have any more kids, and he reminded her of her ex-husband who was also a race-car driver? Apparently, Arie loves women who love race-car drivers, which sure seems convenient for him. Emily gives him a rose, they make out on a carousel, and she says he reminds her of Ricki's dad. (Have I mentioned that he was a race-car driver?) Front-runner status achieved, for now.
Week 4: Arie loves ALL forms of racing
The gang heads to Bermuda. A sailing group date splits the men into two teams for a boat race, with the winners rewarded with more time with Emily and the losers sent back to the hotel. Fortunately, Arie's team — which, less fortunately for Arie, is also Jef's team — triumphs. Arie escorts her to a wet, dark beach with a blanket that is not quite long enough to wrap around both of them. Predictably, they make out. But the group date rose goes to … Jef.
Week 5: Arie gets dramatic
Welcome to Jolly Old England! For a group date in Stratford-upon-Avon, the men must perform Romeo and Juliet with Emily. All the bachelors play Romeo, except Arie and Doug, who are cast as the nurse. Arie, speaking in a high voice and wearing a braid, wins major points for being a Good Sport.
A contestant named Kalon has made the hilariously inadvisable choice of complaining about the existence of Emily's beloved daughter, human "baggage" that she is. (This is the helicopter-arrival guy, if that context is helpful.) When single dad Doug tells Emily of Kalon's misdeeds, she orders him to "get the fuck out." She doesn't give out a group date rose, either, because she's upset no one warned her about Kalon sooner — and particularly upset at Arie, from whom she expected the most loyalty. (I'm far from Arie's biggest fan, but I disagree with Emily here: Tattling on other competitors about anything is the best way to ensure you'll lose a reality dating show.) At the rose ceremony, she exacts her punishment by giving Arie the very last nerve-racking rose of the night.
Week 6: Arie falls in love
The show heads to Dubrovnik. I can only imagine that no one on the production team could be bothered to do five minutes about Croatia, because this week's truly stupid group date has Arie et al. join Emily for an advanced screening of the movie Brave (because Disney and ABC each own half of a best-friends necklace), followed by some kilts-mandatory Highland games. No one seems bothered by the fact that they are not in Scotland. Scotland is, like, 1,500 miles away from Croatia. Nevertheless, Arie and Emily are back on track, sharing the sexy smushed-up-against-a-wall kiss that now appears in pretty much every promo for Arie's Bachelor season, but she gives the group date rose to Chris out of pity because he sucks so bad at archery.
After Emily sends a douchebag named Ryan who explicitly stated his desire to become the Bachelor (!) home after a disastrous one-on-one date, Arie sneaks out ("sneaks out") for an extracurricular visit to Emily's hotel room, to assure her he has her back. He has learned his lesson from Kalongate. She gives him the leftover one-on-one date rose earmarked for Ryan on the down low and they kiss on her bed. He's "definitely in love," Arie declares in a talking-head interview.
Week 7: Arie has a love triangle
Buckle up: This episode is a landmark moment in Bachelor history, even if its resolution is anticlimactic. For their one-on-one date, Emily leads Arie around Prague somewhat at random, armed with a guidebook. (There isn't a single hot tub to be seen! Bachelorette dates have come so far.) "English? English? Little?" says Arie, truly a man of the world, to a hot wine vendor. But then Emily announces to the camera that she knows a secret about Arie, something he hasn't told her. Cut to the front of the franchise's Los Angeles mansion, where Chris Harrison roosts upside down in a closet whenever his on-camera presence is not absolutely necessary. Romance Dad addresses the audience directly: "I wanted to take this time to talk to you about something you may have heard or even read about."
Years ago, Arie briefly dated Bachelor[ette] producer and Emily's friend Cassie Lambert, which our Bachelorette didn't know when filming began. In a strange little sequence, we see tape of Cassie mic-ing up Emily in Prague and then asking her questions off camera. Cassie only told Emily about her fling with Arie once it was clear she'd caught feelings — that way, the producer says, she'd have a chance to get to know him first. But it's too late. Emily is newly suspicious of Arie. What else he could be hiding from her? "This isn't a production thing; this is a real-life thing," Emily insists.
She spends the rest of her date trying obliquely to lure Arie into admitting to dating Cassie, and though she might as well be holding a sign that says "I AM VERY UPSET ABOUT SOMETHING," it's clear he won't bite. Back in L.A., Chris tells us that Cassie, Emily, and Arie then had a "very honest conversation" off camera, which, share it with the whole class! We rejoin Emily and Arie on a romantic dinner cruise, by which point she's sure it was all just a "misunderstanding" and she's all aboard the Luyendyk Jr. Express. Then Arie tells her he loves her. All in all, a pretty weird day in Prague.
Week 8: Arie goes to Scottsdale
Hallelujah, it's hometowns week! Emily joins Arie for a lap around the racetrack in Arizona. She's thrilled, calling him "stupid hot" in his uniform. I guess she does love him, because the suit makes him look like a dorkier version of Emo Spider-Man from Spider-Man 3.
He's anxious about Emily meeting his parents, who are very European and speak their minds, particularly his mother. I'm expecting some Netherlands art-weirdo realness on the level of Jesse's stepfather from Before the 90 Days at this point. Lo and behold, they are perfectly nice. (Bryan's mom was much more alarming and Rachel still accepted his proposal, for some reason.) The only awkwardness arises when Arie's parents address him in Dutch in front of Emily, but he's quick to translate for her benefit. Emily bonds with Mom over the difficulty of relationships with race-car drivers; Arie tells Dad he's ready to propose.
Week 9: Arie doesn't get a fantasy suite
It feels wrong that I have not yet mentioned that future Bachelor Sean Lowe will become Emily's third-place suitor. Hi, Sean! Sorry you're about to be eliminated.
We've landed in beautiful Curaçao, where Arie and Emily swim with dolphins in the ocean and then smooch on a boat, in close proximity to said dolphins. Over dinner, they try to get a better sense of each other's daily routines. She wakes up before 6:30 a.m.; he wakes up at nine (hmm). He doesn't like the feeling of being alone (hmm) and goes out to eat almost every meal. Emily says she'd be open to moving to Arizona, which is clearly a lie or a delusion, because there's no way she'd actually uproot Ricki. Though we've entered the show's sanctioned sex episode, Emily declines to actually spend the night with anyone, "as a role model and as a mother." (Sean's recounting of the proceedings is a little different.) She instead elects to stay up and talk with both Jef and Sean, but doesn't give Arie the fantasy suite invitation at all, because she doesn't "trust herself" to resist temptation.
Week 10: Arie gets dumped
With the finish line in sight, Emily's family arrives in Curaçao to inspect the potential son-in-law goods for themselves. At first, Arie babbles nervously about the best weather for fishing, but sticks the landing when he presents Emily's mom with a box containing every rose her daughter has given him. It's cute. They dig him. But does Emily?
On her last date with Jef, Emily introduces him to Ricki — making him the only suitor to meet her child — and the three of them spend a day by the pool together. The next morning, she tells Chris Harrison she knows her heart is set on Jef, but she's devastated by the prospect of hurting Arie. They have one last date scheduled, but she can't bring herself to play along. Chris encourages her to do the right thing and be honest with him.
Meanwhile, Arie is waiting for Emily at a garden owned by a woman named Dinah, where she teaches him how to make a love potion out of flowers. "Tomorrow I am getting engaged," he proclaims to the camera, with the confidence of a man who has no idea he's about to get dumped so, so hard. Emily is already tearing up by the time she walks up to him. He is upset, even as she assures him it was nothing he did, she meant everything she said, you know the drill. He kisses her on the cheek and, though she follows, tries to flee to his getaway car as quickly as possible. "There's nothing to say," he tells her. "I don't think you're going to get the good-bye that you want. Just because I'm not going to be like, 'Good luck.'"
In the back seat, Arie says he still believes that Emily is the love of his life. Emily cries alone on a bench. Sorry, Dinah. You did your best.
After the Final Rose
By the time they reunite for this special, Arie is happy for Jef and Emily — he says it helped him to watch the show as it aired. But he nevertheless felt blindsided by the breakup. We learn that, unbeknownst to producers, Arie flew to Charlotte on his own dime seeking closure. But once he got there, out of respect for Jef and Ricki (what about respect for Emily?), he decided to call his TV ex rather than go see her. Arie did leave the journal he kept during his time on show on her doorstep, so she could understand the depth of his feelings for her. Emily didn't read it. She gives it back to him on air. This is truly the Jim-and-Pam teapot note of the Bachelor franchise, and we shall never know its contents.
The Verdict
What should we make of Arie? Honestly, I have no idea. He's, like, fine? Handsome, forgettable, and neither particularly interesting nor particularly objectionable. In other words, he was an inevitable choice for The Bachelor. The key takeaways to look out for this season:
• It is going to lean hard on Arie's reputation as a virtuoso "kissing bandit," which is odd, considering that his kissing skills wouldn't have left an impression on me otherwise.
• Arie likes a southern accent. (Looking at you, Tia.)
• He's down with single moms, and based on his past relationship with season 16 winner Courtney Robertson, he's down with villains, too. (Looking at you, Chelsea.)
• Mama Luyendyk took it easy on Emily, but I have a feeling she'll grill whichever gals Arie deems worthy of bringing home this time around. Hopefully they brushed up on their conversational Dutch.
• I bet that Mr. Blindside will be over-the-top communicative about the reasons why he's dumping someone, to compensate for the lack of closure he felt after Emily broke up with him. This will almost certainly backfire.
• Given that racing is Arie's only personality trait, expect a lot of car-related puns, dates, and competitions. It's just too bad that Disney couldn't hold off on releasing Cars 3 till this year.