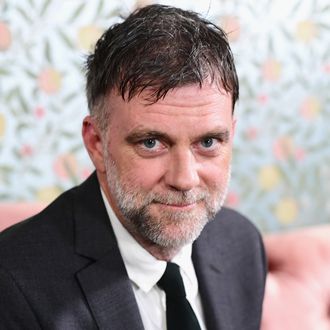 Photo: Emma McIntyre/Getty Images
Paul Thomas Anderson is online. The Phantom Thread director did a Twitter Q&A Wednesday afternoon to promote his new, dark romance. Anderson has admitted that he doesn't love press obligations, but it's the burden he has to bear. In December, he told GQ that he has a crazy habit of working with actors who are either unwilling or unable to promote his movies: "Adam Sandler doesn't do press interviews. Or Daniel Day. You know? For that matter, I have made a few movies with Joaquin, who is absolutely the worst person to go promote your film." So today PT-Bae was having a little fun with this press tour, answering questions about broccoli (he's not that into it), Haim (he stans), Paddington 2, and more. (He did not, however, answer this Vulture inquiry regarding how exactly he became Mr. Maya Rudolph.) See the director's best answers, below.
To be clear, Paul Thomas Anderson has not read 13 Reasons Why and also dresses like a cute, color-by-number cartoon:
Be forewarned: Phantom Thread's Lothario Reynolds Woodcock can get quite fussy.
PTA is very into Call Me by Your Name, but did not give a ruling on whether Armie Hammer should've eaten the peach.
Nothing but respect for MY president!
Need to convince your friends to see Magnolia? "Just lie."
Jesus is Haim. Update your bibles accordingly.
Phantom Thread opens in wide release January 19.