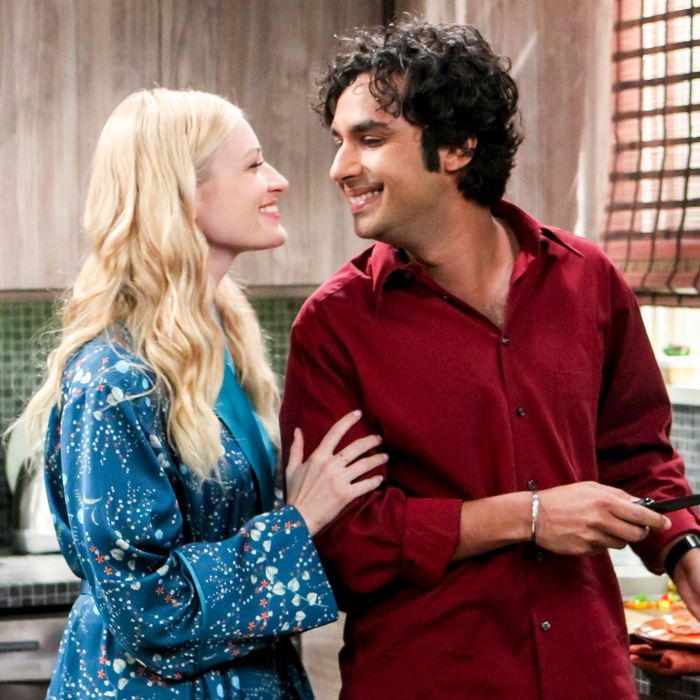 Photo: Sonja Flemming/CBS
My first reaction to "The Separation Triangulation"? Not enough Walton Goggins! If Walton Goggins agrees to make a guest appearance in your sitcom, you give your audience every bit of Walton Goggins you can, am I right?
The Justified and Vice Principals alum pops in as Oliver, a man who is newly separated from his wife, Nell (2 Broke Girls alum Beth Behrs). It's been just a day under two weeks since he moved out of their apartment, and he's heartbroken about the split. Adding to his pain: Nell has already moved on to a new fella, one Rajesh Koothrappali.
Raj is narrating his new planetarium show like a rock star (pun intended if you think it's funny), impressing audience member Nell so much that she asks Raj for a selfie with him afterwards. That giant fight he and Howard had earlier in the season continues to have positive effects on Raj, as independence from Howard and from his parents' money has resulted in a newly confident Koothrappali. He's even got a patter down for charming the women he meets at the planetarium, which is how he ends up in another selfie with Nell, this one taken in his bedroom at 2:30 in the morning. All's good until the next sleepover, especially the scrambled eggs Raj cooks for his new friend for breakfast. They're not just tasty, she says, but they're also a thoughtful gesture, something her husband never did for her. Surprise, Raj! Your new girlfriend is married. Separated, but still married. Separated for 13 whole days, but still married.
Raj is already uneasy about the situation when it gets even more complicated: Oliver finds him at the planetarium, and breaks down in tears. He thought he and his wife were about to start a family, and now she's tossed him aside. He just wants to meet the guy who's replacing him. Raj being Raj, he tries to make Oliver feel a little less hopeless about his marriage. It doesn't take long until he and Oliver are sharing slices at House of Pies, and Raj is trying to convince Nell to go to couples counseling and give her marriage another go. If it doesn't work out, he'll continue to sleep with her, he says. (He's a nice guy, not always a graceful or clued-in one.)
When Oliver visits him again at the planetarium, Raj learns his new ex-girlfriend and her formerly soon-to-be ex-husband have reconciled, and Raj suggests they celebrate with — what else? — more pie. All in all, it's a good thing Raj started dating Nell. If it weren't for that particular hookup, her marriage might have ended.
Elsewhere in Theory, Leonard learns the thing he thought he wanted throughout his years of friendship and roommate-ing with Sheldon is actually far worse than putting up with the daily frustration that is knowing Sheldon. You see, Sheldon is trying to become a more thoughtful, empathetic person, and it's driving Leonard crazy.
Taking Amy's comfort into account, Sheldon feels bad that his renewed enthusiasm for his string theory work means his notebooks and papers and whiteboards and markers are strewn around their apartment. So he asks Leonard and Penny if he can rent his old room — "They don't seriously think anyone believes that they're planning to turn it into a gym, do they?" Sheldon wonders out loud — where he'll have peace and quiet and a place to organize his research. In return, they'll have … Sheldon as a tenant. They both reject the idea initially, assuming he'll be the same rude, demanding guy he's always been, but when he's there three days and makes nary an insult nor request, Leonard is more freaked out than ever.
Good thing Sheldon went into the deal with one of his trademark contracts. The Rental Agreement, which Leonard and Penny clearly did not read, calls for Sheldon to be supplied with fizzy lemon water every day, and Leonard is made surprisingly happy when he's expected to fetch it.
I still think there should have been more Walton Goggins, though. Maybe Raj and Oliver will maintain their new friendship …
THEOR-EMS
• Sheldon is so proud of the work that he's doing right now, he offers up a cell-phone pic of his new equation, after Howard shows a photo of baby Halley. "Isn't it perfect?" Sheldon asks. "Sometimes I just stare at it, and I think, 'I can't believe that came out of me.'"
• Sheldon: "I'm trying this new technique where I imagine how I would feel in someone else's position." Amy: "You mean, empathy?" Sheldon: "Aww, I thought I came up with it."