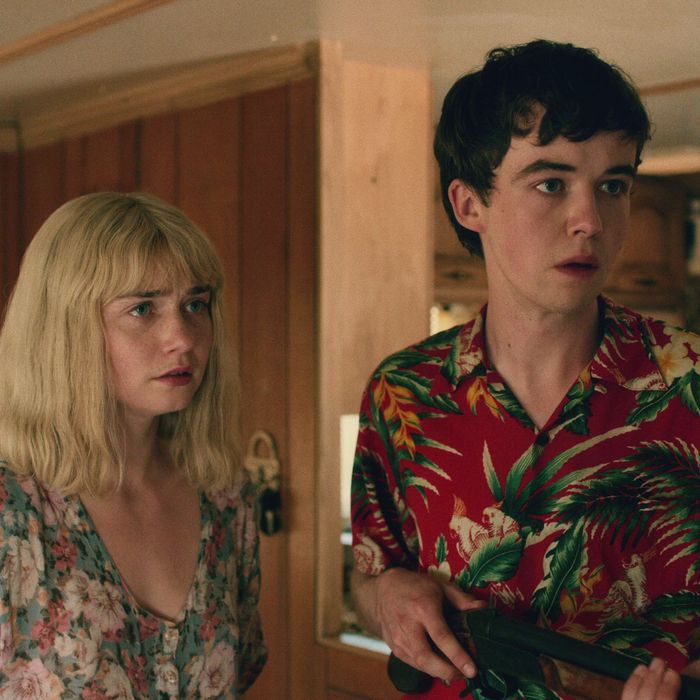 Photo: Courtesy of Netflix
In Vulture's review of The End of the F***ing World, Jen Chaney described it as deceptively endearing for a story about a 17-year-old self-diagnosed psychopath and the teen girl that he's determined to murder in cold blood. But, as she correctly warned, "The title tells us pretty clearly that this show won't have a happy ending." All its earnest moments illuminating first love, repressed childhood trauma, and identity, coupled with the show's typically British sardonic tone, mask the unshakable reality that these two wayward teens are in deep trouble with the law. After Alyssa (Jessica Barden, in a breakout performance) persuades our presumed killer James (Alex Lawther) to skip town with her, the two face immediate danger.
They wind up unknowingly breaking into the house of a serial rapist, Dr. Clive Koch (Jonathan Aris). When Koch arrives home to find Alyssa asleep and seemingly alone in his bed, he attacks her. It's then that James slips out from under the bed, armed with the newly acquired knowledge of Koch's crimes and the hunting knife he planned to use on Alyssa, and stabs him in the neck, leaving Koch to bleed out. Together, the pair cover their tracks as clinically as possible — the process does make James emotionally and physically ill, since he's not actually the callous psychopath he thought he was — and flee the scene. They spend the remaining episodes as fugitives on the lam, with their next move always proving more impulsive and sloppier than the last.
The rest of the series tries to unpack how two teenagers, even those as swept up in their own angst as James and Alyssa, could become murder suspects at the center of a national manhunt. We learn James saw his mother drown herself when he was a kid, planting a seed deep within his impressionable brain that he must also be chemically imbalanced because he didn't save her. Meanwhile, Alyssa's father abandoned her when she was a child, leaving her to a creepy stepfather and idle mother, and convinced she's unworthy of love. They are young people who know nothing but adult pain, but their traumatic pasts don't matter to the two police investigators, Eunice Noon (Gemma Whelan) and Teri Donoghue (Wunmi Mosaku), appointed to make an arrest in the Koch murder.
Whelan's more sympathetic character tracks them down at Alyssa's long-lost deadbeat dad's trailer home, where she suggests it's in their best interest to surrender and agree to a manslaughter plea deal. (It's James's 18th birthday, which means he can now be tried as an adult.) Informed they wouldn't go to the same prison, Alyssa whacks Noon in the head with a rifle and attempts to escape on her dad's boat with James before the rest of the police arrive. But it's too late: James decides to take the fall, tells Alyssa to testify that she was his hostage the whole time, then knocks her in the head with the rifle.
In the show's final seconds, James runs along the beach and we hear his familiar voice-over — but this time spoken in present tense. The rest of his inner monologue had been narrated in the past tense, as if he already knew the end to this story, while Alyssa always optimistically spoke in the present. "I've just turned 18," he says. "And I think I understand what people mean to each other." A gunshot rings out as the screen fades to black.
Was James shot and killed by the police? There's no definitive end, just as there's no definitive way to bring justice for their crimes that would feel right. The ambiguity of whether what James and Alyssa did to Koch was self-defense, and if that means they should get a lesser sentence or be tried as two kids under unfortunate circumstances, mirrors not knowing whether or not James made it. (For what it's worth, Charles Forsman's graphic novel takes a different route to a similar end, though there's a better sense of closure.)
Since we don't know what happens after the screen fades to black, and because Netflix hasn't announced a second season, here are some lingering concerns that may go unanswered:
• Even if James is dead, what happens to Alyssa? She helped cover up a murder, assaulted a police officer, stole a car, held up a gas station, and stabbed her dad in the leg. The kidnapping story probably won't hold up, if she uses it at all, so she's unlikely to get off scot-free.
• Will Koch's violent past get out now that his mother gave the video tape to Eunice?
• Is Eunice okay? Please say she's okay and that her and Teri rekindle whatever spark they're trying to pretend didn't exist.
• Will Alyssa's mom ever divorce her deplorable husband and start being a better parent to her daughter?
• Did Alyssa's dad die from removing the knife from his leg, like Eunice told him not to? And if he did survive, will he ever actually pay child support for his other son? If there's going to be any justice in TEOTFW, let it be that.