This winter, your local broadcast TV network would like you to tune into their show about a young, attractive, white male doctor who goes against tradition and upsets the rules of the hospital in the process. No, not that show, the other one. ABC's The Good Doctor, which stars Freddie Highmore as a surgeon with autism, premiered this fall with ratings that just kept rising. Last night, Fox debuted The Resident, a decidedly much darker doctor show starring Matt Czuchry as the titular resident, a bad boy with as scraggly a beard as it's possible to get from the guy who was the Yale love interest on Gilmore Girls. You may love one of the new doctor shows and hate the other, you may like them both, or you may never watch either and only know of their existence from all of those billboards and commercials. The point is, we are now here to help you tell them apart.
Who plays the doctor?
The Good Doctor stars Freddie Highmore, a British actor who started off as a kid in movies like Finding Neverland and August Rush and more recently starred in Rihanna's favorite show, Bates Motel.
The Resident stars Matt Czuchry, who was the douchey Yale boyfriend Logan on Gilmore Girls and lawyer Cary Agos on The Good Wife. Somehow, he always seems as if he is living in the year 2003.
Who is the doctor?
In The Good Doctor, Freddie Highmore's Shaun Murphy is a surgical resident with autism and savant syndrome. He is extremely good at his job (i.e., cutting people open), but bad at interpersonal relations.
In The Resident, Matt Czuchry's Conrad Hawkins is a senior resident (it's unclear whether he has a speciality) who's just your typical bad boy. He drinks energy drinks. He has wears bead bracelets favored by bros who think they're slightly deeper than the typical bro. He says "Namaste" by way of hello and likes to tell people things like "Everything you thought you knew about medicine is wrong."
Who is the doctor's mentor?
In The Good Doctor, Freddie Highmore has a friend in Dr. Aaron Glassman (Richard Schiff, avuncular as usual), the president of the San Jose St. Bonaventure Hospital, who offers him fatherly advice and likes to drink large cups of iced coffee.
In The Resident, Matt Czuchry has a rival in Dr. Solomon Bell (Bruce Greenwood, foxy as usual), the superstar chief of surgery at his hospital, who's currently trying to cover up for the fact that he keeps endangering (and harming) people with his shaky hands.
Does the doctor have any tattoos?
In The Good Doctor, Freddie Highmore does not have any tattoos.
In The Resident, Matt Czuchry has a tattoo of the Caduceus on his forearm, a tattoo of the Eagle, Globe, and Anchor on his chest, and …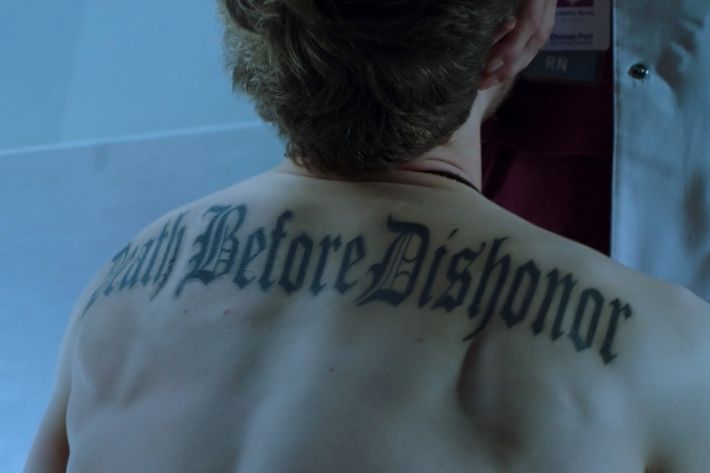 … a tattoo that reads "Death Before Dishonor" in goth lettering across his back.
Who are the doctor's friends?
In The Good Doctor, Freddie Highmore works closely with fellow surgical resident Dr. Claire Brown (Antonia Thomas of Lovesick, formerly known as Scrotal Recall), who is generally kind and supportive and good at her job.
In The Resident, Matt Czuchry tortures new intern Dr. Devon Pravesh (Manish Dayal of Halt and Catch Fire), who is new and innocent and pretty smart, but not a fan of his new supervising resident's many off-color jokes.
Who is the doctor's love interest?
In The Good Doctor, Freddie Highmore was in love with the woman who lived down the hall from him, except she just moved out in the most recent episode so we won't be seeing her again.
In The Resident, Matt Czuchry hooks up a lot with Nicolette Nevin (Revenge's Emily VanCamp) but also they hate each other. It's a complex relationship.
How does the doctor perform surgery?
In The Good Doctor, Freddie Highmore and pals come up with many ridiculous solutions to strange medical problems, including helping a porn star who has lost feeling in her vagina, and separating and then re-conjoining a pair of conjoined twins.
In The Resident, Matt Czuchry and enemies work on a lot of medical problems that are often very gory, especially when Bruce Greenwood accidentally severs an artery or two. The show also introduces a fancy device that allows you to do surgery remotely, requires extremely steady hands, and can only be operated by Dr. Mina Okafor (Billions's Shaunette Renée Wilson), my favorite character, who has gotten precious little to do so far.
How is the lighting on this doctor show?
In The Good Doctor, everything is yellow and blue and bright.
In The Resident, everything is black and red and dark.
The Good Doctor is fun, but it's no ER.
The Resident is also fun, but it's no ER.