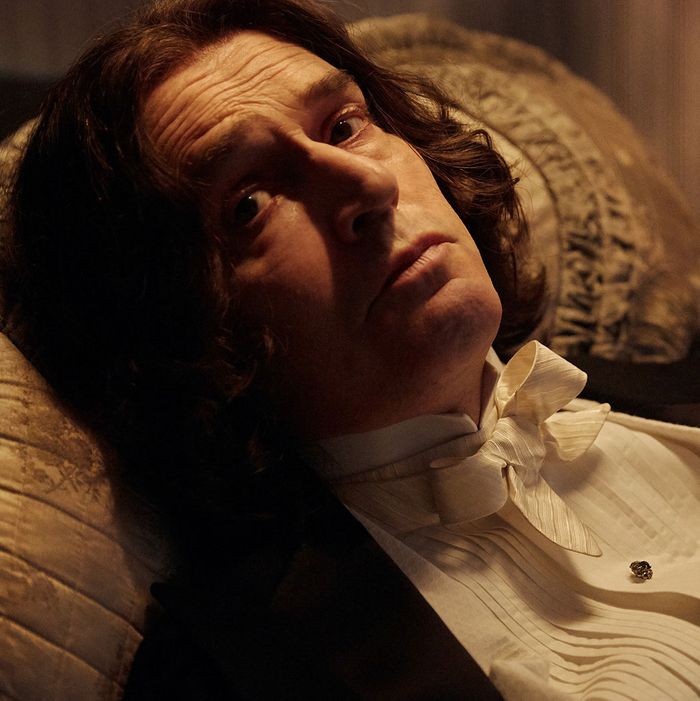 Photo: Wilhelm Moser/Courtesy of Sundance Institute.
Although Rupert Everett's Oscar Wilde biopic The Happy Prince has a downward trajectory that left the audience at its Sundance premiere more muted than was warranted, it's lifted into the stratosphere by Everett's magnificent performance. I mean no insult to say that I didn't think Everett had this in him — few actors have this in them. He has been affixed with jowls and a pointy nose, but after a millisecond of surprise, I stopped seeing the prosthetics (which are even more impressive than in Darkest Hour) and registered a great man whose face is incapable of handling the weight of his fall. Everett's Wilde suggests Falstaff laid low by rejection and the "chimes at midnight." That said, Wilde doesn't need to be yoked with Shakespeare for additional luster. "Wildean" is sufficiently titanic, and Everett does him justice.
The movie has fleeting flashbacks to a triumphant opening night, the infamous trial on charges of buggery, and the traumatic journey to prison, but The Happy Prince is largely set in the period between Wilde's release in 1897 and his lingering death in 1900 from meningitis. Everett's script skips back and forth in time, opening with Wilde at perhaps his lowest ebb, skulking penniless through the streets of Paris en route to his dingy hotel. After he's recognized by a sympathetic, wealthy female admirer (whom he presses for £5), the woman's husband rushes up and dispels the good vibes by threatening Wilde's life if he ever speaks to her again. Everett follows this encounter with a flashback to the husband laughing and applauding at the opening of The Importance of Being Earnest — heavy-handed, but potent. It's surely what Wilde would have been thinking of at that awful moment.
In his directorial debut, Everett takes his inspiration from the character's inner state. The coast of France is surveyed from the vantage of a deeply brutalized soul. The moments before Wilde's collapse at a raucous tavern while drunkenly warbling a satiric ditty are heady and delirious. Like Wilde, the camera is plainly in love with the instrument of the writer's fall: the beautiful Alfred Douglas, a.k.a. "Bosie" (Colin Morgan).
Although warned by a sometime (jealous) lover and future literary executor Robert "Robbie" Ross (Edwin Thomas) that Wilde's estranged wife, Constance (Emily Watson), will cut off his allowance if she hears that he and Bosie have made contact, Wilde seizes on the opportunity with no second thought — or first thought, for that matter. This will surely eliminate any chance of Wilde seeing his young sons again, but that melancholy is outweighed by the drive for pleasure. When you watch him and Bosie in Naples (in a memorable sequence, comporting with minimally clothed young Italian men), you see that Wilde remains capable of supreme self-indulgence — but given the supremeness of that self, it's hard to pass judgment on him.
The problem is the disgust of his contemporaries, particularly the upper class that he both satirized and was happy to belong to. Also, we've seen where the brief remainder of life is heading, and it's not north to England and a second chance. His prison memoir, De Profundis, will not be published in his lifetime (and not published in its entirety until more than half a century on), and he can't muster the will to write more plays or novels. After Bosie moves on and Wilde's allowance vanishes (it is Ross who betrays him to Constance), he uses what little money he has to hire young French men, and at one point takes up (platonically) with a little ruffian boy and the boy's friends.
This is where the movie's title comes in. "The Happy Prince" is a story he tells them about a prince and a bird and the promise of an afterlife in which all is healed. I confess, I had a hard time following the tale (it's told in pieces) and a harder time appreciating it. It feels labored — though I understand that Everett means it to signal the possibility, amid such physical squalor, of transcendence.
The final scenes do convey something more far-reaching. Robbie is back, despite his betrayal, along with Colin Firth as Wilde's devoted friend, the writer Reginald "Reggie" Turner. We get to hear Wilde's last reported great line: "This wallpaper and I are fighting a duel to the death. One of us has got to go." Tom Wilkinson has a few funny moments as the Irish friar hastily drafted to give Wilde his wished-for last rites. The Happy Prince proves that a film can be both bleak and warm-spirited, as befits its mighty subject.